In this issue of the newsletter:
Update: Stories of adults with special needs who are helped by Diapers for Refugees
Update: Christmas for Refugees and Diapers for Refugees problems in December
Update: Christmas in the Holy Land for Christian children again this year?
New: Hope and hate in Nigeria: Our farm prospers, but more Christians murdered
Diapers for Refugees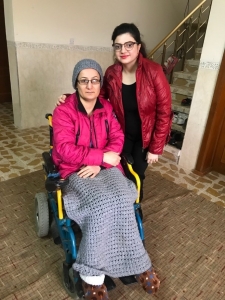 Those we help: Intesar (38), is a paralyzed mother of two who receives adult diapers from our Diapers for Refugees program. She is currently among the many displaced Christians from Qaraqosh, Iraq who are unable to return. This is her story:
"In 2005 I went to a clinic at Mosul to receive a treatment…unfortunately, when I finished my visit and was on the way to my home village (Qaraqosh), I was shot by an unknown
gunman during confrontations between US military troops and terrorists. This shot has changed me from being a normal woman to a paralyzed woman."
Intesar stopped talking for a while as her eyes fill with tears while she describes the crisis that she was going through.
When asked about her living conditions when ISIS occupied Qaraqosh, she replied "in August 2014 ISIS started to attack Qaraqosh with mortar fire, some people were killed, and then everyone started to escape from there seeking refuge in Erbil. It was so crowded, tragic to see such view."
She continued: "We left everything behind and went to an unknown future, after waiting for so long in the main checkpoint of Erbil. We finally managed to get in the city, at that time we
were sleeping in the streets and gardens. It was so hard for us. Now, we rent a small house because ISIS burned our entire house after collecting our furniture and putting it in the middle of the house to ensure that the fire would increase rapidly and destroy the house totally. They destroyed all our beautiful memories with it."
"We don't have adequate money to rebuild our house. My husband is just a daily worker and we lost all our belongings and savings during the war with ISIS. So many of us are fighting
just to live," she said.
"These helpful diapers are one of my much-needed items that will help me survive. Your team is doing an effective role in presenting services that the government cannot or does not
provide for disabled people with their families. You indicate that you do love me through your visit. God bless you all for your faithful loving service to our Lord."
Stories like Intesar's tell me why Diapers for Refugees should continue the adult diaper program and expand it, if at all possible. Many others such as Intesar need our help.
Diaper and Christmas programs conflict: As of now it appears that the Christmas for Refugees program and the Diapers for Refugees program are going to conflict with each other in December. Running two major fund-raising campaigns at one time can be working at cross purposes. Yet both programs are important to the children and families that benefit from them.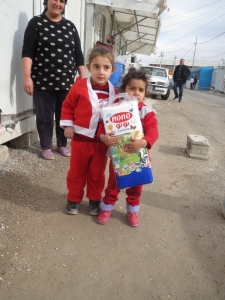 The Christmas for Refugees program lifts the spirits of thousands of displaced Christian children, while also assisting their families with essentials at Christmas time. The Diapers for Refugees program protects many from serious illnesses and literally saves lives.
The Diapers for Refugees program we operate in the Nineveh Plain is an essential program that no other organization offers. We are also the only organization furnishing sanitary napkins to women in that area.
The adult diapers, not only for the elderly but for younger people with special needs, can literally change lives. I have mentioned before about being in the homes of some in need of
adult diapers, talking and praying with them.
Iraq has literally been in a state of war since 2003. By the official end of the war in 2011, 4,497 American service personnel had died and 26,050 were wounded. Estimates are that more than 600,000 Iraqi civilians have died — and that does not include those murdered by the Islamic State (ISIS). The Christian population of Iraq has been reduced by 83%.
The destruction of hospitals by all sides and the number of doctors who have fled, has caused a drastic rise in the number of children born with severe disabilities. I have visited with some of these children and their families, and prayed for many of them.
Now there is a new crisis on the Nineveh Plain, as Syrian families with elderly parents or special needs children cross over into this area of Iraq. As of now we are reaching only a small percentage of the Syrian Christian refugees who need help.
To expand the diaper program to the Syrian refugees in the Nineveh Plain would cost an additional $5,000 a month. We cannot make that commitment now.
For now, we must get through 2019, and at the same time fund the Christmas for Refugees program. Please pray this month for the success of the diaper program this year.
Christmas for Refugees
Christmas for Refugees moves toward December: The point has been reached where I must start approving dates and signing contracts for our Christmas for Refugees programs. The dates for events in Iraq have already been set, except for the children of Syrian refugees. We must book catering services months in advance to buy bulk meals for the children.
Buses are needed to collect children from various points and bring them to church halls. This must be done early, and deposits must be made on the buses as well. In some cases I must sign contracts with local ministries because they have to hire staff for our projects.
There are aspects of the Christmas for Refugees program that are very special to me. Christmas for the Christian children in the birthplace of the Lord Jesus is something I mean to provide no matter what. I was so touched by being in Bethlehem for Christmas last year that I am brought to tears just thinking of the joy of the children.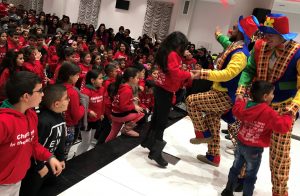 Holy Land Christmas: I first visited Bethlehem in the 1980's when it was still majority Christian. The vendors selling to tourists outside the Church of the Nativity were all Christians. The Christian schools were so full that some children had to be turned away.
Then, in 1995 President Bill Clinton's "peace plan" went into effect and Bethlehem, along with the other majority Christian areas, were handed over from Israel to Yasser Arafat and his Palestinian Liberation Organization (PLO).
Now, almost all the vendors outside the Church of the Nativity are Muslims, and the Christian schools are half empty. Even the Christian schools are now required to teach Islam.
In 1948 when the State of Israel came into existence, the "West Bank" was 86% Christian. Now it is just 2% Christian, and the Christian population and the churches there are struggling. Our program is essential to encouraging those Christians who remain.
I have been visiting Bethlehem regularly for more than 30 years, and I have witnessed the change firsthand. I have seen the Christian civilization of the "West Bank" collapse and be
replaced by those who hate Christians and work to steal what is left of their land.
No matter what, we must continue the Christmas program in the "West Bank" which includes Bethlehem. Please pray that we can hold the programs there this year.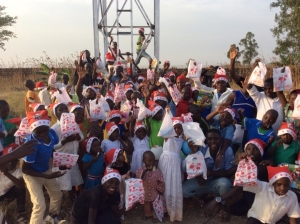 Nigerian Christmas: The first Christmas for Refugees event at the orphanage we support in Nigeria was in 2017. All the children received new shoes, and for many it was the only pair of shoes they had. Some of the children walked barefoot and carried the shoes because they were the most valuable thing they owned.
In 2018, I visited the orphanage for an Easter event we sponsored and saw firsthand the needs. That is why we drilled new wells, built new water towers and ran new water lines. Toilets that could be flushed were added as well.
Christmas of 2018 was joyous in the orphanage because the children and those caring for them had a far better place to live. In the photo at right you can see the joy of the children as they hold up their gifts while standing in front of the new water tower we built for them.
I will not be able to go to Nigeria for the Christmas celebration this year, but plan on once again going to inspect the facility and meet with those at the orphanage in spring of 2020.
Last month there was gunfire from a conflict with the Muslim Fulani Herdsmen so close by that it could be heard in the orphanage. Moving the children elsewhere is not an option at this point, and for now, the orphanage is in a buffer zone that offers some security.
The children are eating better thanks to our programs. The farm crop is coming in!
Please pray that all will be safe at the orphanage and pray that we will be able to hold a Christmas for Refugees event again this year and give each of the children a useful gift.
Hope and Hate in Nigeria
Hatred and violence against Christians: Every day I receive word from those we work with in Nigeria about the slaughter of Christians. The president of Nigeria is a Muslim who has stated that he wants to establish Sharia law in all of Nigeria, not just the northern states where Christians are persecuted and Muslim women are for the most part slaves of their husbands.
At least 60 Christians were slaughtered in a small Christian village just north of Maiduguri, which is the capital of Borno State. At least 11 injured people were later taken to a hospital in Maiduguri.
Right now, I am working on a project asking President Trump to bar all purchases of oil from Nigeria until the Muslim President brings a stop to the constant attacks on Christians – and particularly attacks by his own tribe, the Fulani Herdsmen.
The hope from our orphanage project: Ishaku Dauda, a boy from the orphanage we support in Plateau State received 2nd place at the Child Evangelism Ministry's 40th Anniversary National Bible quiz and recitation competition. He recited from the books of 1st Samuel and Zephaniah, coming in 2nd overall and 2nd in recitation among 62 participants.
I praise God that we can continue to send the funds monthly to allow for the children at the orphanage to have one egg with breakfast each morning and to have at least some protein with their lunch and dinner.
The five-acre farm we leased for the children to work is doing very well. In the last newsletter there were photos of the harvest of Irish potatoes. The corn crop is not ready to pick yet, but as you can see from the photo at right, the corn stalks are now taller than the security guard, who is over six feet tall.
The orphanage is giving a tithe of 10% of their crop to another orphanage that does not now have access to fresh food. It is my prayer that next year we can help additional orphanages that take in children who are orphaned in attacks by Sunni Muslim Fulani herdsmen and the Boko Haram.
PLEASE PRAY: Please pray for the Christians of Nigeria, particularly for the Christian children who have been orphaned in attacks on their villages. And please say a special prayer for the young girls who have been kidnapped and forced into marriages to Muslim Fulani Herdsmen and Boko Haram fighters.
Lastly … the Christian children in every nation where we will hold Christmas for Refugees program events need our continued prayers. First and foremost, pray for their safety before, during and after each of our events. Everything we do is in HIS hands!
William J. Murray, President
https://religiousfreedomcoalition.org/wp-content/uploads/2019/09/WhatsApp-Image-2018-12-07-at-10.23.34-2.jpeg
806
1080
Claire Marlowe
https://religiousfreedomcoalition.org/wp-content/uploads/2020/03/RFCFinal.jpg
Claire Marlowe
2019-09-13 14:08:02
2019-09-13 14:08:43
The Chairman's Report for September 13, 2019