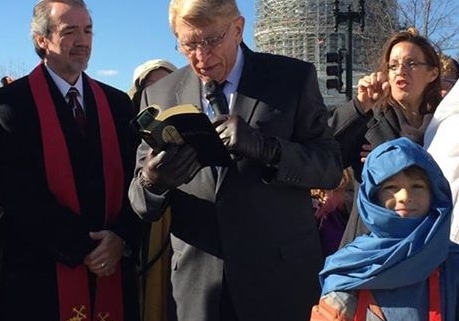 On December 3rd, Religious Freedom Coalition chairman William J. Murray participated in a live Nativity sponsored by Faith and Action on the steps of the Supreme Court and at the Capitol Building.
He and other leaders in the Washington faith community read the Gospel of our Lord Jesus Christ aloud at several sites.  Setting the scene were volunteers in Biblical period dress and the same animals present in Bethlehem for the coming of Jesus including  a donkey, two sheep, and a camel.
Faith and Action has coordinated this event for five years to vividly portray to those working and visiting Capitol Hill the true meaning of Christmas. The Gospel is presented through the volunteers who have Jesus in their hearts and desire to share Him with others.
Faith and Action stated that "the project is a public witness to both remind people of the powerful message delivered on the very first Christmas and to address the growing hostility toward public expressions of faith, especially during the Christmas season."
[su_button url="http://christmasforrefugees.org/donate/"]Should Christian refugee children be allowed to celebrate Christmas?[/su_button]
Watch EWTN New's video below to learn more.

https://religiousfreedomcoalition.org/wp-content/uploads/2015/12/12316472_10207451658027199_2199501538723461892_n.jpg
612
459
Air Spark
https://religiousfreedomcoalition.org/wp-content/uploads/2020/03/RFCFinal.jpg
Air Spark
2015-12-05 13:21:18
2015-12-05 13:21:18
RFC Chairman Participates in Live Nativity