In this issue of the newsletter
New: Christmas for Refugees donations to be doubled by gift challenge fund
New: Christmas for Refugees needs the support of social media this year
New: The crisis for Christians in Lebanon / We are funding food programs there
New: More young Christian girls kidnapped and forced to marry Muslim men
Christmas for Refugees Planning for 2020
Matching gift program hits record: For several years, a group of dedicated supporters of the Christmas for Refugees program have become part of a Leadership Circle to set up a matching gift trust as a challenge to others to help. During Christmas for Refugees fundraising in October and November, all the donations received for Christmas for Refugees will be doubled out of the fund.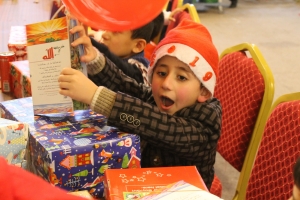 This means that any donation of $20, for example, causes another $20 to be added by the matching gift challenge fund. The $20 donation becomes $40, thanks to the matching fund for Christmas for Refugees!
This year the Leadership Circle consists of 90 dedicated supporters who have together set up a matching gift challenge fund of $140,000.
Frankly, I was surprised considering all else that was happening during 2020. On top of the Covid-19 virus and the draconian lockdowns in some cities and states, there have been riots and looting which have devastated entire areas of cities. Some of those who helped set up the matching gift fund this year must navigate violent demonstrations just to go to the grocery store.
Those who made the matching gift fund of $140,000 possible were surely led by the Holy Spirit to make Christmas for Refugees a reality for Christian children this year.
Every good giving and every perfect gift is from above, and cometh down from the Father of lights, with whom is no variableness, neither shadow of turning. James 1:17 (1599 Geneva Bible)
Even those who donate just $5 this month will make $10 available to the Christmas for Refugees program.
Once October and November donations to Christmas for Refugees 2020 add up to $140,000 the actual total will be $280,000 because of the Leadership Circle setting up such a generous matching gift fund this year!
The 2020 budget for Christmas for Refugees is $390,000 and that includes raising the number of children reached in Lebanon to 4,000.
That number is an increase from 2019 because of the huge explosion that levelled many homes and churches in a predominantly Christian area of Beirut near the harbor.
Some of the churches where Christmas events were held in the past have been destroyed.
Our ministry partner in Lebanon has pleaded with me to double the number of children who can participate in Lebanon and to triple the number of children in Syria. This would require going far beyond the $390,000 budget already set.
Because of the desperate economic situation in Lebanon and the huge burden on Christians in Syria this year I am praying we can increase our outreach. If we can surpass the budget needs of the $390,000 already set, we can increase the outreach in Lebanon and Syria.
Is that possible? With the matching gift trust set at $140,000 by the Leadership Circle and God on our side, all things are possible!
Social media donations will be a big factor!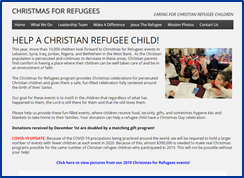 Do you have a Facebook, Twitter or Instagram account? If you do please help me raise funds for Christmas for Refugees on social media. Please share this special page at the Christmas for Refugees Internet site at: www.RefugeeChristmas.org
On Facebook or Twitter, you can share this page more than once – even once a week if you like. You can also visit the Christmas for Refugees page at Facebook and "like" it. This will share our Facebook page with your friends on Facebook.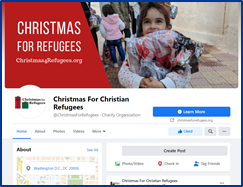 There is a lot of activity on Instagram! We are trying to build a Religious Freedom Coalition presence on Instagram. If you use Instagram, please help by sharing the special Christmas for Refugees Internet page on your account.
TikTok has really been in the news, with President Trump threatening a ban for national security reasons. TikTok is primarily used by youth. Over half of TikTok users worldwide are under 24 years old.
If you have never used TikTok but know a young person who has, please ask them to share Christmas for Refugees information. TikTok can be used to expose the youth of our nation to the reality of the persecution of Christians worldwide.
With Covid-19 lockdowns and travel bans, holding Christmas for Refugees events for over 10,000 children looks impossible. But with God nothing is impossible!
And Jesus beheld them, and said unto them, with men this is impossible, but with God all things are possible. Mathew 19:26 (1599 Geneva Bible)
The Christians of Lebanon
The Christians of Lebanon Imagine the population of the United States doubling in just ten years — and most of the new arrivals being refugees seeking asylum!
In the year 2000 the population of Lebanon was 3.8 million. Today the population is 6.8 million and most of the increase was caused by refugees. The estimate, probably low, is that there are 1.5 million refugees just from Syria. Iraqis also streamed into Lebanon after the Second Gulf War. And there are 500,000 Palestinians who are more or less permanent refugees that claim Israel as their home. Most of those were born in Lebanon but are not Lebanese.
Lebanon was not an Arab nation, but there are now millions of Arab refugees living there.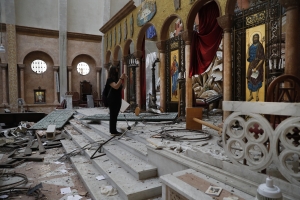 The burden of millions of refugees, most of them Muslims, have destroyed the Lebanese economy. There are hundreds of thousands of Christian refugees from Iraq and Syria. More than half the students at some Christian schools I have visited in Lebanon are refugees. The Christian schools operate with split days — the Lebanese students attend in the morning and the refugee children in the afternoon.
In order to "curb Iran" the United States has issued sanctions against Lebanese banks and organizations, and these have further devastated the economy. Most of the hospitals in Lebanon are operated by the Hezbollah charitable division. Those hospitals are no longer allowed to have bank accounts with any banks that trade in American dollars.
On top of that, the government of Lebanon is broke and can't borrow any more money to support refugees. The Western nations will not give Lebanon any money to repair the area around the port in Beirut that was destroyed by an explosion that killed dozens. That explosion occurred in a Christian area, and churches that held Christmas for Refugees programs just last year were leveled by the explosion.
In the midst of this I pledged that the Religious Freedom Coalition would help a program to feed poorer Christian families in Lebanon for the rest of the year. The program requested $55 per family per month for bulk food purchases.
We pledged to help 60 of those families each month at a cost of $3,300. So far we have transferred funds for those families for July, August, and September. Our total pledge was $19,600 with my promise that if we raised more than that we would help more families.
Praise God! One concerned supporter called and pledged $3,000 which covered the cost for almost ten of the sixty families! All together we have received gifts or pledges for $22,600!
That wonderful response means we will be able to assist at least 66 Christian refugee families, who are mostly from Syria, with food for the rest of the year. That is six more than the original pledge and perhaps more if additional gifts are received.
As soon as all the totals are in and the full extent of support is known, I will be able to advise our ministry partners in Lebanon that we will be able to help additional families.
Pakistan Kidnapping Nightmare
Last month I reported on Maria Shahbaz, a 14-year-old Christian girl in Pakistan who was abducted and forced to "marry" a Muslim man.
Shahbaz was abducted at gunpoint while she was walking home on April 28th by Mohamad Nakash and two others. To justify his custody of Shahbaz, Nakash claimed that he and Shahbaz were married and that she had converted to Islam. Legal age for marriage in Pakistan is 18, not 14. In court he produced a phony marriage license.
Not even the girl's birth certificate and school records deterred the judge, who handed over the 14-year-old Christian girl to a forced Muslim marriage.
This is not an isolated case!
Huma Younus is another Christian Pakistani girl who was kidnapped, forcefully converted to Islam and then made to marry her abductor this year.
Huma was 14 years old when she was abducted at gunpoint in October of 2019 by Abdul Jabbar. In the days that followed, Huma's parents, Younis and Nagheena Masih, started receiving messages via WhatsApp from Abdul's brother, with documents showing that Huma had married Abdul and converted to Islam. However, further investigation of these documents clearly showed them false.
The documents showed a falsified date of birth for Huma, meant to justify the marriage by falsely claiming that Huma was 18 years old. The Sindh, Pakistan Child Marriage Restraint Act of 2019 prohibits the marriage of any girl under the age of 18.
Huma's parents continue to receive death threats to pressure them to stop pursuing legal action against the kidnapper.
Our letter: I was one of dozens of signers of a letter of grievance to Chief Minister of Sindh asking that he order the law to be upheld and the girl released from this illegal forced marriage and returned to her parents.
Other signers of the letter included International Christian Concern, the Anglican Persecuted Church Network and Christian Freedom International.
Shortly after sending this letter to the Chief Minister of the province of Sindh we learned of yet another kidnapping. The new case is a 15-year-old Christian girl, Saneha Kinza Iqbal, who was kidnapped by a 30-year-old Muslim, Saeed Amanat, who is married with four children.
Saneha is the youngest of five children of 55-year-old Protestant pastor Morris Masih.
A growing number of virgin Christian girls are being kidnapped and forced to convert to Islam and enter forced marriages. Christians do not receive equal justice in Pakistan.
I sign several joint letters of complaint to Pakistan officials and American State Department officials each year on the injustice done to Christians in Pakistan.
William J. Murray, President
https://religiousfreedomcoalition.org/wp-content/uploads/2020/10/bartella4-scaled.jpeg
1707
2560
Claire Marlowe
https://religiousfreedomcoalition.org/wp-content/uploads/2020/03/RFCFinal.jpg
Claire Marlowe
2020-10-16 12:37:20
2020-10-16 12:37:21
The Chairman's Report for October 16, 2020