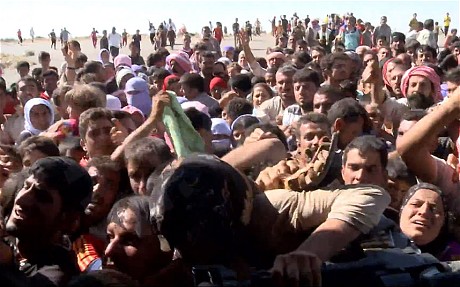 The Pentagon has confirmed that the United States will provide about 600 more troops to Iraq to "advise and provide logistical support" to the Iraqi Army as they try to recapture the city of Mosul from the Islamic State.
Iraqi Prime Minister Haider al-Abadi said in a statement that Barack Obama "was consulted on a request from the Iraqi government for a final increase in the number of trainers and advisors under the umbrella of the international coalition in Iraq."
The Islamic State captured the city of Mosul in the Nineveh Plain of Iraq in June 2014. Mosul was home to many Iraqi Christians fled the city in order to spare their lives. Many of these Christians escaped to "refugee camps" in Iraq, Lebanon and Syria, where they live in abandoned buildings and slums in order to escape enslavement, torture or murder from the Islamic State.
Currently, there are 4,565 US troops in Iraq as part of a coalition against the Islamic State that offers training to the Iraqi army.
Religious Freedom Coalition sponsors two programs to help Christian refugee families that escaped this persecution in Mosul, Diapers for Refugees and Christmas for Refugees. The Diapers for Refugeesprogram which aims to send high quality disposable diapers to these Christian refugee families located in camps around Erbil. Families in these camps are dying from diaper rash because of the inability to wash cloth diapers with soap and clean water. Due to the lack of diapers, mothers are forced to use donated clothing as diapers for their children, which still can't be cleaned properly.
With help from our donors, the Diapers for Refugees program gave nearly 300 families enough diapers to last for three months, totaling 160,000 diapers in the first shipment which took place in March 2016. In June of 2016, 160,000 more diapers were sent and distributed to families in the refugee camps located in Erbil. Our commitment for the remainder of 2016 is to provide these Christian refugee camps with diapers every three months, totaling 640,000 disposable diapers given to displaced Christian families.
The price of a single shipment of diapers ranges from $18,000 to $20,000 or 11 cents per diaper. These shipments are distributed by large truckloads to Christian refugee camps across Northern Iraq. Next month, our third shipment of diapers will be sent out to 5 different camps near Ankawa, but in order to do this we still need to raise $8,000.
Every day Christians living in the Middle East are targeted for their faith. The Islamic State has declared war on Christianity too many times to count. Christianity is under attack and thousands of our Christian brothers and sisters are dying because of it. These Christian refugees need our continued prayers and support. Learn how you can help.
The Christmas for Refugees program helps displaced Christians from Iraq, Jordan and Lebanon that are being ignored by Islamic run charities.
In 2013, 2014, Christmas events that included hot meals were served to Christian refugee children in Jordan and Lebanon. In 2015 the program was expanded to Christian IDP's (Internally Displaced Persons) in Iraq who fled the Islamic State as the city of Mosul and Christians villages nearby were overrun. Much of the Nineveh Plain was also stolen from Christian families who fled to the Kurdish areas in the northeast. In 2016 the number of children served will be increased.
Christmas for Refugees is much more than one hot meal at Christmas. The many hours long program includes a warm place to stay for a day with Gospel themed plays and puppet shows along with games and traditional Christmas songs.
Gospel themed coloring books and work books are supplied to the children and in some cases Arabic language picture Bibles. Each child takes home a gift box for themselves and their family.
The gift box for each child's family varies by area, even within the same nation. The family gift is a box of essential items including toothbrushes, toothpaste, hand soap, tissues, sponges, feminine hygiene items as well as dish and laundry soaps. Learn how you can help.
https://religiousfreedomcoalition.org/wp-content/uploads/2014/08/YazidiAidHelicopter.jpg
287
460
Air Spark
https://religiousfreedomcoalition.org/wp-content/uploads/2020/03/RFCFinal.jpg
Air Spark
2016-09-28 15:51:57
2016-09-28 15:51:57
US to Send More Aid to Iraq to Recapture Mosul