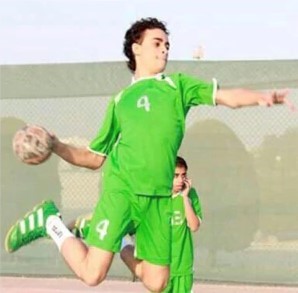 Silence is as evil as the deed – In April of this year in Saudi Arabia, 37 Shia Muslims were publicly beheaded in one day. Two of them were crucified afterward. One of those beheaded was a young man who had been accepted at the University of Michigan as a student.
In 2012 Mujtaba al-Sweikat, then only 17 years old, was arrested at an airport just before his plane was to leave for the United States. His crime? He had apparently made a social media statement in favor of democracy in Saudi Arabia. In Saudi Arabia that is considered "terrorism".
He and the other 36 Shia Muslims, over a period of several years were tortured to the point of not even being able to walk. Eventually they were forced to sign "confessions" to terrorism with their thumb print, probably because their hands had been too badly broken to be able to write their signatures.
Had any of the 37 actually committed acts of terror? Probably not. Every real act of terror in Saudi Arabia has been committed by Sunni Muslims who want to get rid of the king and establish a pure Sunni Muslim califate.
Virtually every terror attack in the world in the last thirty years was rooted in the Sunni version of Islam. The attack on 9-11 that "woke" America to Islamic terror was planned and executed by al-Qaeda, a radical Sunni Muslim organization funded by wealthy Saudis — and probably by the Saudi government. We will never know for sure if the Saudi government did any funding, because the 9-11 final report still has the references to Saudi Arabia blacked out.
The shooter in the horrible night club attack in Orlando who killed 49 was a Sunni Muslim who attended a mosque funded by Saudi Arabia. The San Bernardino attack by a husband/wife team killed 22. The killers were Sunni Muslims and again they were associated with a mosque funded by Saudi Arabia. One had lived in Saudi Arabia.
Every terror attack by Muslims in the United States since 9-11 was done by Sunni Muslims. There were attacks before 9-11, and yes, they were all Sunni Muslims.
Every attack in Paris was Sunni Muslim, including the night club attack that killed 135 people and wounded over 400 in 2015. The same is true for the attacks in Nice, France and Brussels, Belgium.
Attacks in Russia, including the massacre at an elementary school in Beslan that killed 334 on the first day of school in 2004, have all been by Sunni Muslims. So was the downing of a Russian passenger jet in Turkey carrying mostly women and children. There have been Sunni terror attacks in Germany and other European nations as well.
In every case there was some association of the killers to Saudi Arabia.
The Islamic State, also call ISIS, is Sunni Muslim. The Islamic State committed genocide of the Yazidis and murdered tens of thousands of Christians and Shia Muslims in Iraq and Syria. Entire Christian towns were wiped out in Syria. Sunni Muslims from all over the world came to do jihad in Syria. Tunisia, Saudi Arabia and Jordan supplied the largest number of ISIS fighters, but they came from as far away as China and Indonesia – and all were Sunni Muslims.
Why can't we stop the terror? All Western leaders, including Presidents Bush, Obama and Trump refer to "our Sunni allies." In other words, we are so tied in financially to the Sunni Muslim world that we have to place blame elsewhere. So we blame the Shia Muslims who are themselves mostly just victims of the Sunni Muslims. Iran is targeted because it is majority Shia.
The United States and the United Kingdom sell billions of dollars of arms to Saudi Arabia every year. The West also depends on the oil pumped by Sunni Muslim nations.
The United States has now even transferred nuclear technology to Saudi Arabia that could be used for nuclear weapons research. Fifteen of the nineteen 9-11 terrorists were citizens of Saudi Arabia, and all of the nineteen were Sunni Muslims. So now we are going to help them build nuclear weapons?
What is even more bizarre is that Israel is going along with this whole insane idea of arming its Sunni Muslim neighbor with the best weapons in the world. This brings to my mind the conversation between King Hezekiah and the prophet Isaiah in 2 Kings 20:17-18. Every snake handler eventually gets bitten. In this case the Western leaders not only handle but feed the snake that has bitten them over and over again. What happens when the snake finally becomes large enough to swallow Western nations that humble themselves before it?
William J. Murray, Chairman
[su_button url="https://diapersforrefugees.org/helping-christian-refugees/#DonateLanding" background="#0479ac"]Help Persecuted Christian Families[/su_button]
https://religiousfreedomcoalition.org/wp-content/uploads/2019/05/Mujtaba-al-Sweikat-1.jpg
293
298
Air Spark
https://religiousfreedomcoalition.org/wp-content/uploads/2020/03/RFCFinal.jpg
Air Spark
2019-05-17 10:27:24
2019-08-16 16:10:56
Incredibly Evil Heart of Saudi Arabia