Stop the slaughter: The slaughter of Christians continues in Nigeria while Western leaders and Western media say nothing. Even a threat against a mosque is big news in the United States, but the murder of Christians because of their faith is no news at all.
Examples from Nigeria this year:
May-June: In Jalingo, Taraba State. 65 were killed, 9,000 displaced, and 15 churches, two primary schools and a health center destroyed during attacks on 18 predominantly Christian villages.
July: An estimated 282 people were killed and 97 kidnapped.
August: Five pastors were reportedly abducted by Fulani herdsmen on their way to attend an annual church conference in Ogun State. On Aug. 29 Muslim Fulani herdsmen killed five Christians and destroyed many homes in an attack on Kiri, in Kaduna's Kaura County.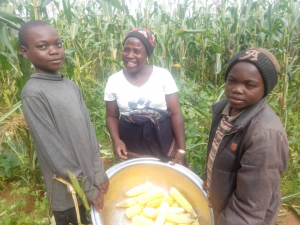 Those are some of the attacks that we know of. Most are not even reported in the media in Nigeria. Virtually all of the attacks are in the northern Nigeria states that are controlled by Muslims and have Sharia law.
A Bright Spot: The orphanage children harvest corn.
The teachers and counselors at the orphanage who are mostly volunteers are overjoyed by how the situation with the children has changed with our help.
As the crops come in the children eat well and learn to be responsible for themselves as well. They have learned how to take a weed filled plot of ground and turn it into a productive farm that feeds them.
https://religiousfreedomcoalition.org/wp-content/uploads/2019/09/Nigeria-Corn.png
810
1080
Claire Marlowe
https://religiousfreedomcoalition.org/wp-content/uploads/2020/03/RFCFinal.jpg
Claire Marlowe
2019-09-27 09:33:13
2019-10-28 16:47:26
Nigeria: Murders of Christians Continue