With all the uncertainty surrounding the COVID-19 pandemic this Christmas season, it was apparent that changes had to be made to our traditional Christmas programs. Below are the new guidelines for the 2020 Christmas for Refugees program.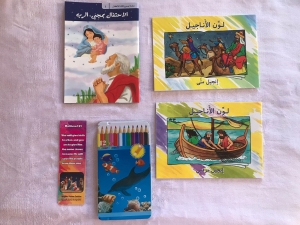 All children will be under 15 years old.
All children will still come to a designated location at a specified time and receive a package consisting of educational Christian books and materials, along with gifts for each child.
When they arrive at a church or school, the children will enter one at a time. As they walk through there will be Christmas scenes and Christmas music and hymns.
Staff at the door will allow one child at a time, making sure they use available hygiene gel, and each will receive a handstamp. The purpose of the handstamp is to ensure that each child receives only one Christmas package. Other staff will be available to clean and distribute gifts.
Local churches and Christian schools of all denominations will allow us to use their facilities and they will also provide volunteers. Over the last eight years the Christmas for Refugees program has brought together Christians of different denominations, recognizing their shared love for God and His son Jesus.
With this new program, we will aim to bring joy to children and remind them that they are living for God with the joy of Salvation through His son Jesus.
We hope the children will use what they receive to prepare themselves for Christmas and get their minds set on the significance of the birth of Jesus Christ our savior.
Each child will receive a package containing:
Two Christian books for children and a bookmark with Scripture. The books can help the children in their walk with Jesus and teach them the power of prayer.
A Bible themed activity book with puzzles, coloring and word games centered on Bible stories. A set of coloring pencils or crayons will be included.
Each will receive an age appropriate gift to enjoy the Christmas season. Depending on area, the gifts range from toys to warm winter coats.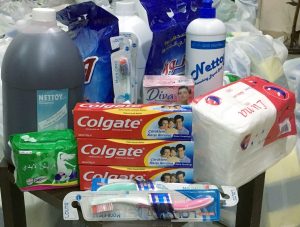 In some areas each child's family will receive a hygiene kit containing personal essentials such as tooth paste, soap, shampoos and cleaning supplies for the home. In other areas the families will receive vouchers for food for Christmas.
The project will have a positive and lasting impact on the well-being of the children as they look forward to Christmas for Refugees events they have learned about in past years.
Even though there will not be live events, children will get to enjoy an out of home visit to get their gifts as it will likely be their only chance of celebrating Christmas during COVID-19.
Families will be very grateful for the love shown them by their brothers and sisters in Christ in America. This year's program will lift the spirits of the entire family — as their economic situation has been made even worse by the Covid-19 lock-downs imposed on them.
This year's Christmas for Refugees program will serve as a spiritual and material lifeline allowing the children to have the joy of Christmas and reminding them of the true reason for Christmas. Our programs will give the children many of the things that their parents will be unable to give them this Christmas.
Christians in the Middle East need encouragement not to fall away from the Church – and the Gospel that is taught there.
William J. Murray, President
https://religiousfreedomcoalition.org/wp-content/uploads/2020/11/IMG_20191217_145637-1-scaled.jpg
1920
2560
Claire Marlowe
https://religiousfreedomcoalition.org/wp-content/uploads/2020/03/RFCFinal.jpg
Claire Marlowe
2020-11-03 09:46:21
2020-11-03 09:46:23
New Guidelines for Christmas Events in 2020