Imagine the population of the United States doubling in just ten years — and most of the new arrivals being refugees seeking asylum!
In the year 2000 the population of Lebanon was 3.8 million. Today the population is 6.8 million and most of the increase was caused by refugees. The estimate, probably low, is that there are 1.5 million refugees just from Syria. Iraqis also streamed into Lebanon after the Second Gulf War. And there are 500,000 Palestinians who are more or less permanent refugees that claim Israel as their home. Most of those were born in Lebanon but are not Lebanese.
Lebanon was not an Arab nation, but there are now millions of Arab refugees living there.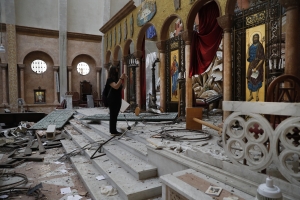 The burden of millions of refugees, most of them Muslims, have destroyed the Lebanese economy. There are hundreds of thousands of Christian refugees from Iraq and Syria. More than half the students at some Christian schools I have visited in Lebanon are refugees. The Christian schools operate with split days — the Lebanese students attend in the morning and the refugee children in the afternoon.
In order to "curb Iran" the United States has issued sanctions against Lebanese banks and organizations, and these have further devastated the economy. Most of the hospitals in Lebanon are operated by the Hezbollah charitable division. Those hospitals are no longer allowed to have bank accounts with any banks that trade in American dollars.
On top of that, the government of Lebanon is broke and can't borrow any more money to support refugees. The Western nations will not give Lebanon any money to repair the area around the port in Beirut that was destroyed by an explosion that killed dozens. That explosion occurred in a Christian area, and churches that held Christmas for Refugees programs just last year were leveled by the explosion.
In the midst of this I pledged that the Religious Freedom Coalition would help a program to feed poorer Christian families in Lebanon for the rest of the year. The program requested $55 per family per month for bulk food purchases.
We pledged to help 60 of those families each month at a cost of $3,300. So far we have transferred funds for those families for July, August, and September. Our total pledge was $19,600 with my promise that if we raised more than that we would help more families.
Praise God! One concerned supporter called and pledged $3,000 which covered the cost for almost ten of the sixty families! All together we have received gifts or pledges for $22,600!
That wonderful response means we will be able to assist at least 66 Christian refugee families, who are mostly from Syria, with food for the rest of the year. That is six more than the original pledge and perhaps more if additional gifts are received.
As soon as all the totals are in and the full extent of support is known, I will be able to advise our ministry partners in Lebanon that we will be able to help additional families.
William J. Murray, President
https://religiousfreedomcoalition.org/wp-content/uploads/2020/10/AP_20218288668222-002-scaled.jpg
1707
2560
Claire Marlowe
https://religiousfreedomcoalition.org/wp-content/uploads/2020/03/RFCFinal.jpg
Claire Marlowe
2020-10-08 08:45:19
2020-10-08 08:45:22
The Christians in Lebanon