Christmas for Refugees: There were no large Christmas for Refugees events this year with hundreds of children celebrating the birth of our Lord except in Syria and Nigeria. Normally in each country buses pick up children from various points and families drop them off at auditoriums, churches, civic centers or other venues.
In past years the children have spent hours at the Christmas events participating in songs, games, contests and having a hot meal. Covid-19 restrictions made that impossible this year. We were restricted the most in Iraq this year, but in Lebanon we were able to host many more children than previous years.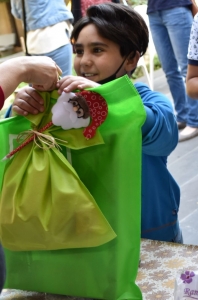 The events may have been toned down, but they were still about Jesus. In many places the children had to walk one at a time through the venue and pick up their gifts and the gifts for their families.
The gifts were not inexpensive trinkets that can be found at Walmart. The gifts consisted of Christian books, activity books and other items that are useful.
Everything distributed, including custom items we had made, was in Arabic. Families received food vouchers and hygiene kits or blankets depending on the area served.
Christmas decorations were put up at each distribution place, and Christmas carols played as the children picked up their gifts.
The number of children participating increased from last year, but the final counts will not be known for some time. Communications from areas in Syria (where we drastically raised the number of children and families) is difficult because of the ongoing attacks by terrorist groups and the sanctions imposed on Syria by Western nations.
We will post many more updates and pictures in the weeks following Christmas. In the meantime, visit our Christmas for Refugees website to view galleries from each of the events we have hosted this year as well as previous years.
William J. Murray, President
https://religiousfreedomcoalition.org/wp-content/uploads/2020/12/Square.jpg
1028
1148
Claire Marlowe
https://religiousfreedomcoalition.org/wp-content/uploads/2020/03/RFCFinal.jpg
Claire Marlowe
2020-12-23 10:10:49
2020-12-29 10:36:34
Christmas for Refugees despite COVID-19