Lebanon: In Lebanon the Christmas programs will reach over 4,000 children, of which 2,435 are Christian refugees from Syria.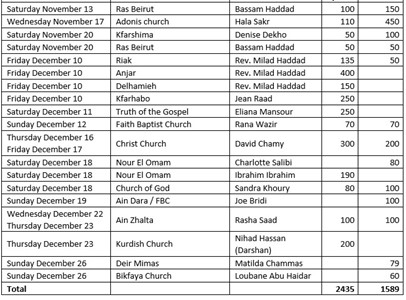 Other children are from Iraq, and there are also some Lebanese children affected by the large explosion in Beirut and the collapse of the Lebanese currency.
The chart at right details programs just in Lebanon. I have placed it here to demonstrate the detailed reporting we require in order to make sure that the programs are carried out according to our specifications.
We know the church name and location, and the name of the pastor or main organizer of each event for the children. I also receive details of what occurred at each event, along with photos. We have trusted ministry partners in the Middle East who furnish me with detailed information on the progress of our programs, even with Covid-19 and the restrictions it caused.
Despite the collapse of the Lebanese pound in 2021, we were still able to provide  meaningful gifts to the children. Of course there were Christian coloring books and Christian educational materials as well.
As can be seen in the photo at right, the children did their best to participate in singing and praising the Lord despite local requirement for masks!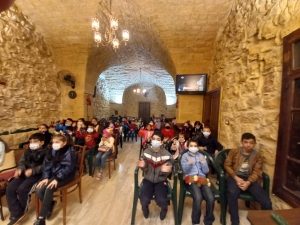 Please note that the children are wearing coats. There is a misconception among many Americans that all of the Middle East is desert. The Bible though, speaks of the Cedars of Lebanon, where in higher elevations it is bitter cold during the winter. This is also true of Israel, next door to Lebanon. I have been in Jerusalem when it snowed, was bitter cold and the roads were covered with ice.
In fact, I had to cancel the very first Christmas for Refugees event in Amman, Jordan because of a massive ice storm that closed roads and took down power lines. Fortunately the weather was overall good for all of our events in the Middle East this year. Events were successfully held in Iraq, Jordan, Syria, Lebanon, and the West Bank towns of Bethlehem and Beit Sahour.
Learn more about our Christmas for Refugees programs here.
https://religiousfreedomcoalition.org/wp-content/uploads/2021/12/IMG-20211120-WA0055.jpg
960
1280
Claire Marlowe
https://religiousfreedomcoalition.org/wp-content/uploads/2020/03/RFCFinal.jpg
Claire Marlowe
2021-12-28 11:07:08
2021-12-28 11:07:54
Christmas for Refugees Events Begin - Lebanon