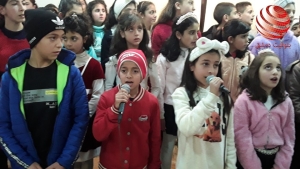 The Middle East: Tens of thousands of Christian refugees can't go home to Syria.
Syria was the safest place for Christians in the Middle East before the Sunni Muslim uprising beginning in 2011 financed by the Obama Administration and Saudi Arabia. Even Israel funneled help to the Sunni Muslims trying to overthrow the secular government and hand control over to the Muslim Brotherhood.
Christians began to flee Syria to Jordan and Lebanon as the "opposition" financed by the West turned into the Islamic State, a terrorist organization that slaughtered anyone who disagreed with them at any level. As their homes and businesses were destroyed more Christians fled.
The situation in Iraq has become better and many Christians have moved back, but the conflict continues in Syria. Entire Christian towns no longer exist.
We can now reduce the size of the Christmas for Refugees program in Iraq as churches rebuild and take on their affairs. Yet in Lebanon and liberated parts of Syria, the programs are still desperately needed. The programs will expand in Syria this year.
Some Christmas for Refugees programs will still be held in northern Iraq. Again in 2023 Christmas programs will be held in Jordan, Lebanon and Syria. Christmas events will also be held for poorer Christian families in Bethlehem, the birthplace of our Lord and Savior. Please pray for the success of the programs and the protection of the children.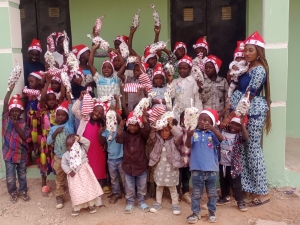 Nigeria: The need for the Christmas for Refugees program is declining in Iraq, but the need is ever growing in Nigeria.
The Christmas programs are tremendously meaningful for the children at the orphanage,  and adding programs at IDP camps will raise the spirits of the children there who have lost everything material — and often lost a loving parent.
This year the children from our orphanage will be ministering the program for the children at the IDP camps.
What a tremendous symbolism! Our children from the orphanage who themselves have lost their parents, will be taking the Christmas program to the children of the IDP camp. The orphanage children will bring worship music, praise services and games. They will distribute the food and gifts. A pastor will lead the children to an understanding of the Gospel and deliver an invitation for those children who don't yet have a personal relationship with Him.
Because of the constant threats and attacks in the areas where the Christmas events will take place, your prayers are needed.
https://religiousfreedomcoalition.org/wp-content/uploads/2023/10/320647708_723183242721481_6207334875754453530_n.jpg
540
960
Claire Marlowe
https://religiousfreedomcoalition.org/wp-content/uploads/2020/03/RFCFinal.jpg
Claire Marlowe
2023-10-06 14:08:00
2023-10-06 14:08:02
Christmas programs in the Middle East and Nigeria