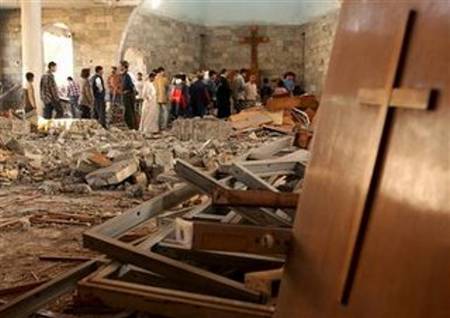 Christmas Day is not celebrated until January 7th in Egypt by Coptic and other Christian denominations. About 130 Christians, including children, will probably remain imprisoned on January 7th, nearly two months after they were arrested when 2,000 members of the state security forces attacked their church building. Several people were killed during that attack in which police chanted Islamic war cries and tried to tear down the three story building that was under reconstruction. The object of the attack was to prevent the building from being used for Christmas services.
About 25 homes surrounding the church in the Christian area of Giza, a Cairo suburb, were burned to the ground by local police and one news agency reported that more than 20 people were blinded deliberately in one or both eyes. Although the St. Mary's Church had a permit for renovation and additions from the national government, the governor of Giza, Sayyed Abdel-Aziz told a news agency that the permit had been "misused" by the Christians and the acts of the police were justified.
Meanwhile in Nigeria, at least 80 Christians were killed in attacks by Islamists on Christmas Eve. Churches there hold special services on Christmas Eve which is celebrated on the 24th as it is here. Knowing this, armed Muslims of the Boko Haram sect attacked several churches in Nigeria simultaneously, including several which were bombed in Jos. In others cases such as at the Victory Baptist Church in Danjuma, Akawu, armed Muslims simply entered the church and murdered worshippers. Nigeria is divided, with the northern half impoverished by Islamic extremism while the Christian south is by African standards, well off.
Then there is Iraq, the nation the United States invaded in order to bring freedom and equality. As Americans safely opened their brightly decorated boxes of Chinese made junk this past Christmas morning, Christians in Iraq prayed that they would just live to the end of the day. There were no Christmas decorations put up, nor were there any Christmas Eve or Christmas Day services in Iraq. Even an appearance by Santa Claus was canceled. Christian leaders called off Christmas celebrations all over Iraq because of continued Islamic threats of terror. Dozens of Christians have already been killed this year and the exodus of Christians from Iraq has escalated.
In previous years Pakistani Christians have suffered severe attacks at Christmas including murders during their services, but this year they did not put up displays and services were held in secret, so the violence by Muslims was marginal although it can come at any time. Earlier this year 150 armed Muslims invaded the Christian district of Pahar Ganj which is north of Karachi.  They damaged two churches, beat Christians and burned shops and vehicles because a young Christian boy touched a piece of fruit on a Muslim vendor's cart. Then there is Asia Bibi, a Christian mother of five, facing a death sentence for the blasphemy of claiming she was allowed to drink from the same well as a Muslim woman.
There is more to come: in places such as southern Russia and Egypt, Christmas is celebrated by Christians according to the Julian calendar, on January 7th. More Christmas attacks are coming. (As this article was being prepared word came of a church bombing in Alexandria on New Year's Eve. The official media reports seven dead, the Coptic Church reports 45 dead with some missing under debris.)
Muslim violence against Christians during Christmas is not limited to nations with large Islamic populations. In the predominately Christian Philippines, a Catholic chapel was bombed Christmas Day by Islamic extremists.
Attacks on Christians by Muslims are an international problem. The United Nations, however, sees "Islamaphobia" as the real threat and continues to work on a resolution that would justify the Islamic blasphemy laws that are used to persecute Christians in predominantly Muslim areas. The West needs to awaken to the real problem of the persecution of Christians and put to rest the imaginary concept of "Islamaphobia."
…………………………..
William J. Murray is the Chairman of the Religious Freedom Coalition based in Washington, DC and the and author of The Pledge: One Nation Under God.
www.religiousfreedomcoalition.org
Phone: 202.543.0300
https://religiousfreedomcoalition.org/wp-content/uploads/2011/01/churchbombiraq.jpg
318
450
Air Spark
https://religiousfreedomcoalition.org/wp-content/uploads/2020/03/RFCFinal.jpg
Air Spark
2011-01-07 10:45:36
2011-01-07 10:45:36
Christmas is becoming a day of persecution for Christians