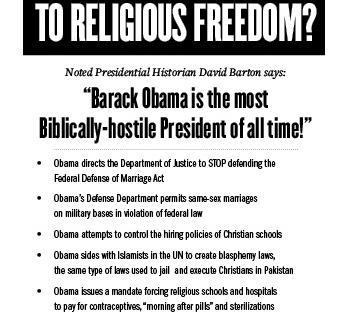 Great News!
Religious Freedom Coalition newspaper ads telling of the Obama Administration's threats to religious freedom began running on May 13th. The first newspaper to accept the ad was the Panama City News Herald. This newspaper is in the Panhandle of Florida, in an area that has a large military presence. Many of those living in the area fought for religious freedom in Iraq and Afghanistan, only to see Christians persecuted by the predominantly Muslim governments there.
The ad schedule moves south in Florida, around the Keys and then up the Atlantic Coast into North and South Carolina and then Virginia. We hope to be in Pennsylvania by August!
The ads will NOT appear in liberal big city newspapers. The purpose of the ads is not to fight with liberal editors, but to activate social conservatives to action to protect our precious religious liberty which is the foundation of all liberty. For that purpose the first national ad ran in the national edition of the Washington Times the week of May 21st. (Ad is larger than shown here.)
Our goal is to encourage social conservatives to contact their congressmen and  Senators to demand that Congress block President Barack Obama's continued attacks on religious liberty with legislation such as that recently offered by Congressman Todd Akin. The Religious Freedom Coalition also wants activists to encourage Secretary of State Hillary Clinton to add the murderous Islamic Boko Haram to the State Department's list of terrorist organizations. Christians are killed daily in Nigeria by the Boko Haram as the Obama Administration allows the group to raise funds in the United States. Read more
Help us run more of these ads in key areas of the nation … DONATE TODAY
SEE PDF OF THE NEWEST VERSION OF THE AD
Schedule for September, 2012


9/5  The Star Press Union – Belle, Iowa
9/ 6  Altavista Journal – Campbell County, VA
9/6  St. Augustine Record – St Augusta, FL
9/6  West Volusia Beacon – Deland, FL
Schedule for August, 2012


8/14  Insidenova Weekly – Prince William County, VA
8/14  The Daily Herald – Columbia, TN (Ad placed by supporter)
8/15  The Journal Press – Dahlgren, Colonial Beach, VA (Naval Weapons Center)
8/15  News & Messenger – Manassas Park, Woodbridge, VA
8/15  Stafford County Sun – Stafford County, VA (Quantico Marine Base)
8/22  The Independent – Colorado Springs, CO
8/22  The Courier – Plant City, FL
8/22  Ephrata Review – Lancaster County, PA
(Epharta refused our ad)
8/23  Lititz Record Express – Lancaster county, PA
8/29  Echo Pilot – Greencastle, PA
9/29  The News-Sun – Perry County
8/30  Perry County Times – New Bloomfield, PA
8/30  Duncannan Record – Duncannan, PA
MORE TO COME!
Schedule for July, 2012


7/3  Alliance Times-Herald, Alliance NE (Ad placed by a supporter)
7/11  Daily News – Palatka, FL
7/16  Daytona Beach News – Daytona Beach, Ormond Beach, Port Orange, FL
7/18   Black Mountain News – Black Mountain, NC
7/25  Black Mountain News – Black Mountain, NC
7/25  Pickens Sentinel – Pickens, SC
7/25 Westminister News – Walhalla, SC
7/25  Keowee Courier – Walhalla, SC
7/26  Rappahannock News – Abingdon & Meadowview, VA
7/26  Amherst New Era Progress – Lynchburg, VA
(Amherst News refused to run ad.This is a first for us!)
7/27  Star Sentinel – Roanoke, VA
7/29 – Hickory Daily Record – Hickory and Newton, NC
Schedule for June, 2012


6/17   Herald-Tribune – Sarasota, Arcadia, Punta Gorda, FL – Circulation 96,235
6/17   Stuart News – Stuart, FL – Circulation 27,880
6/31  Winter Haven News Chief, Winter Haven, FL
Schedule for May, 2012


5/13     Panama City News Herald
5/16     Washington County News – Chipley, FL
5/16     Holmes County Times Advertiser – Bonifay, FL
5/20   St. Augustine Record – St. Augustine, FL
5/23   Monticello News – Monticello, FL
5/25   Perry News Herald – Perry, FL
5/25   Enterprise Recorder – Madison, FL
5/30   Suwannee Democrat – Live Oak, FL
5/30   Dixie County Advocate – Cross City, FL
5/31   Gilchrist County Journal – Gilchrist, FL
5/31   Sumter County Times – Webster / Bushnell, FL
Help us run more of these ads in key areas of the nation … DONATE TODAY
https://religiousfreedomcoalition.org/wp-content/uploads/2012/05/RFC_enemy_ad.jpg
720
352
Air Spark
https://religiousfreedomcoalition.org/wp-content/uploads/2020/03/RFCFinal.jpg
Air Spark
2012-05-10 11:43:30
2012-05-10 11:43:30
Saving Religious Freedom Ads begin running in Florida