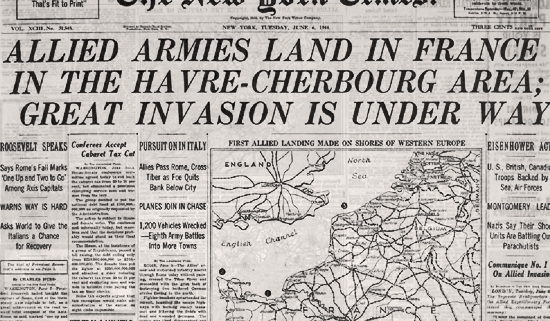 In This Issue: Obama military allows same-sex marriage in state where illegal / More dead to gang violence in Nashville thanks to Obama / FDR's D-Day prayer shows a stark contrast to Barack Obama / Conservative Hollywood producer banned from HS graduation / Judge rules to protect sex offender's "rights" / CAIR executive's antisemitic speech / Syrian "rebels" force Christians out of towns / Another Nigeria church bombed / New Egypt brings more attacks on women / German honor killing beheading
THE PRESIDENCY

OBAMA MILITARY ALLOWS SAME-SEX MARRIAGE WHERE ILLEGAL –
Under the guidelines set by the Obama Administration a chaplain at Fort Polk in Louisiana has performed a "same-sex" marriage even though "same-sex" marriage is against the law in that state.
Read more
MORE DEAD IN NASHVILLE THANKS TO OBAMA –
The Obama Administration continues to plant thousands of foreign Muslims each month in Bible Belt cities in an attempt to dilute Christian influence. Nashville is one target city that is now seeing the results of the Obama plan as the "Kurdish Pride" gang has basically taken control of areas of south Nashville forcing the police to take on new strategies.
Read more
CONGRESS

FDR'S D-DAY PRAYER –
Thursday, June 6th, marked the sixty-eighth anniversary of D-DAY, the invasion at Normandy. On June 6, 1944, President Franklin D. Roosevelt delivered a prayer for the nation. The House of Representatives recently passed the World War II Memorial Prayer Act (H.R. 2070), introduced by Prayer Caucus Member Rep. Bill Johnson, which directs the Secretary of the Interior to install a plaque or an inscription of the prayer in the area of the World War II Memorial in Washington, DC. Companion legislation has been introduced in the Senate (S.3078). President Roosevelt's prayer began:
"Almighty God: Our sons, pride of our Nation, this day have set upon a mighty endeavor, a struggle to preserve our Republic, our religion, and our civilization, and to set free a suffering humanity. Lead them straight and true; give strength to their arms, stoutness to their hearts, steadfastness in their faith." The contrast to Barack Obama is striking.
Read full prayer here.

STOP CENSORSHIP DURING VETERAN BURIALS –
On June 6th the House Veterans Affairs Subcommittee on Disability and Memorial Affairs held a hearing on H.R. 2720, introduced by Rep. John Culberson to clarify the role of the Department of Veterans Affairs (VA) in veterans' burial services. Rep. Culberson testified that he crafted the measure in response to religious censorship that occurred during veterans' burial services at the Houston National Cemetery in 2011. He said the measure would ensure an "absolute zone of privacy around every American that the government cannot penetrate-including the right to conduct a funeral in the way that you see fit between you and your God."
Contact your congressman about this bill.
RELIGION AND CULTURE


CONSERVATIVE HOLLYWOOD PRODUCER BLOCKED FROM GRADUATION SPEECH –
A high-school principal told Oscar-winner Gerald Molen he could not deliver his speech because he is a "right-wing conservative." Molen won a best picture Oscar for co-producing Schindler's List with Steven Spielberg among other achievements. He is a former U.S. Marine and sought-after motivational speaker. our editor recommends.
Read more
CAIR SPOKESMAN DISPLAYS ITS ANTISEMITISM –
Despite clearly demonstrated, intimate connections to the jihadist and virulently Jew-hating Muslim Brotherhood the Council on American Islamic Relations (CAIR) persists in its Orwellian self-characterization as an "anti-discrimination" organization. Yet, CAIR-Michigan Executive Director Dawud Walid invoked Jew-hating motifs in a recent May 25 sermon, and in an earlier January speech.
Read more

JUDGE RULES TO PROTECT SEX OFFENDER –
An adult homosexual activist convicted of sexually molesting a 14-year-old boy he met at a "gay youth" event got a judge in Maine to issue a bizarre legal restraining order against Brian Camenker of MassResistance regarding an exposé of those activities, even though Camenker lives in Massachusetts and had never had any contact with the man.
Read more

MORE FROM THE RELIGIOUS FREEDOM COALITION
ISRAEL FACT FINDING MISSION –
A once in a lifetime mission led by William J. Murray, William Federer and Frank Gaffney, all three experts on Israel and Islamic affairs. Not a standard "tour," the mission includes visits to settlements and military bases plus evening panels.
Read more

NEW JUNE CHAIRMAN'S REPORT –
Now available, the June 1st, 2012 edition of William J. Murray's Chairman's' Report. IN THIS ISSUE: Updated information on the advertising campaign to expose Barack Obama's war against religious freedom. Congressman Todd Akin fights to protect the rights of military chaplains. More!
LEARN MORE ABOUT SHARIA LAW –
One of the best locations on the Internet to learn about Islamic Sharia law and its effect on the West is
www.shariafreeusa.org
FACEBOOK FAN? Sharia Free USA now has a Facebook page with more than 1,500 followers. Join with us at
Facebook
today!
CONSTITUTION OR SHARIA CONFERENCE DVD –
This is the complete set of DVD's from the November 11, 2011 Constitution or Sharia conference in Nashville, Tennessee. The Constitution or Sharia: Preserving Freedom Conference was the first true national conference on Sharia and the Islamization of America sponsored by major freedom oriented organizations! It was not just another educational conference. How do deal with and stop implementation of Sharia law in the United states was outlined by speakers and in panels.
Order today
INTERNATIONAL

SYRIAN "REBELS" FORCE CHRISTIANS OUT –
An exodus of Christians is taking place in Western Syria: the Christian population has fled the city of Qusayr, near Homs, following an ultimatum issued by the military chief of the armed opposition, Abdel Salam Harba.
Read more
ANOTHER NIGERIAN CHURCH BOMBED –
A suicide bomber set off a car full of explosives at a church in northern Nigeria on Sunday, killing at least 21 people in the latest attack on Christian worshipers. Nigerian soldiers were responsible for at least eight of the deaths after the suicide bombing of two churches Sunday, June 3, local sources claim.
Read more

THE NEW EGYPT –
Hundreds of men assaulted women holding a march demanding an end to sexual harassment, with the attackers overwhelming the male guardians and groping and molesting several of the female marchers in Cairo's Tahrir Square.
Read more

BEHEADING HONOR KILLING –
Orhan Sircasi, a Muslim living in Germany with his wife and six kids, was arrested for beheading his wife in front of his children. Apparently she was leaving him for taking on another "wife." He later threw her head off the roof of his apartment building as he hollered "Allah Akbar." Of course the German authorities are now looking for reasons other than those he stated when arrested.
https://religiousfreedomcoalition.org/wp-content/uploads/2012/06/NYT-DDay.jpg
380
550
Air Spark
https://religiousfreedomcoalition.org/wp-content/uploads/2020/03/RFCFinal.jpg
Air Spark
2012-06-10 00:36:32
2012-06-10 00:36:32
Report From Washington - June 8, 2012