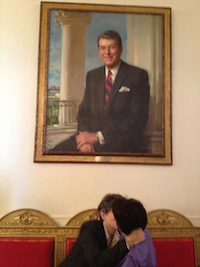 ISRAEL FACT FINDING MISSION –
A once in a lifetime mission led by William J. Murray, William Federer and Frank Gaffney, all three experts on Israel and Islamic affairs. Not a standard "tour," the mission includes visits to settlements and military bases plus evening panels.
Read more
IN THIS ISSUE: Obama and the Boko Haram / Exposing Barack Obama's attacks on religious freedom / Innocent family jailed for Holder's crimes / Lesbians make out in White House under Reagan portrait / Gays invited by Obama give Reagan portrait the middle finger / Children raised by homosexuals suffer / Catholics call for "Fortnight of Freedom" / Boko Haram kills 80 more – Obama finally responds with minor move / Christian slaves in Pakistan / Jew hunting season in France / Bishop says Christians safe in Assad's pre revolution Syria
THE PRESIDENCY
OBAMA AND THE BOKO HARAM –
After months of prodding by congressional leaders and groups such as the Religious Freedom Coalition, the Obama Administration has added leaders of the Boko Haram to a terror list, but not the organization itself. Obama' State Department still refuses to declare Boko Haram a Foreign Terror Organization (FTO), instead adding just three of its leaders, Abubakar Shekau, Abubakar Adam Kambar, and Khalid al-Barnawi to a list of known terrorists.

EXPOSING BARACK OBAMA –
The series of newspaper ads exposing Barack Obama's attacks on religious freedom continues in Florida with hundreds of thousands of people now reached. In a few weeks the ads will be running in North and South Carolina, as well as Virginia.
Read more
INNOCENT FAMILY JAILED FOR HOLDER'S CRIMES –
New Mexico gun dealer Rick Reese and his two sons Ryin and Remington have sat rotting in separate detention centers, jails and prisons in New Mexico, framed for selling 30 guns to Holder's agents.
A must read story
.
SPECIAL: GAY IN THE WHITE HOUSE
GAY BASH AT WHITE HOUSE – Last Friday (June 15th, 2012), a delegation of 'important' gay people from Philadelphia made a trip to Washington D.C. as invited guests of President Barack Obama, for the first-ever gay pride reception at the White House. There, they danced to the sounds of a Marine Corps band; they dined on crab cakes and canapés; they hand-delivered letters from concerned citizens like this 18-year old who has had four people close to him gunned down, and they listened to noted rhyming raconteur CA Conrad. And some of them took advantage of photo opportunities to give the late President Ronald Reagan the middle finger. Read more
RELIGION AND CULTURE
FORTNIGHT FOR FREEDOM – The U.S. Conference of Catholic Bishops (USCCB) recently called for a special "Fortnight for Freedom" from June 21-July 4 for people across the nation to become educated and engaged on the importance of defending our "first freedom." The event is a response to numerous threats to religious freedom, including the recent HHS mandate that will force scores of employers to provide health plans that violate their religious beliefs. Because religious freedom issues are essential to all, not just to one particular faith group, individuals of all faiths are being invited to join in this movement.
THE CHILDREN OF "GAY" MARRIAGE – A new study which found that children of heterosexual parents fare better on numerous indicators of personal well-being than children of homosexual parents is being hailed by true marriage advocates as by far the most scientifically credible study to date on the subject. Read more
MORE FROM THE RELIGIOUS FREEDOM COALITION
NEW JUNE CHAIRMAN'S REPORT -Now available, the June 21st, 2012 edition of William J. Murray's Chairman's' Report. IN THIS ISSUE: Updated information on the advertising campaign to expose Barack Obama's war against religious freedom. Social conservatives must work to inform Mitt Romney what is expected of him before he wins in November / The message to Romney: "You must undo the damage done to religious freedom by Barack Obama!" More!
LEARN MORE ABOUT SHARIA LAW –
One of the best locations on the Internet to learn about Islamic Sharia law and its effect on the West is
www.shariafreeusa.org
FACEBOOK FAN? Sharia Free USA now has a Facebook page with more than 1,500 followers. Join with us at
Facebook
today!
INTERNATIONAL

CONSTITUTION OR SHARIA CONFERENCE DVD –
This is the complete set of DVD's from the November 11, 2011 Constitution or Sharia conference in Nashville, Tennessee. The Constitution or Sharia: Preserving Freedom Conference was the first true national conference on Sharia and the Islamization of America sponsored by major freedom oriented organizations! It was not just another educational conference. How do deal with and stop implementation of Sharia law in the United states was outlined by speakers and in panels.
Order today  
BOKO HARAM KILLS 80 MORE –
After three more churches were attacked this past Sunday and 80 Christians in Northern Nigeria were killed, there was retaliation. Christians invaded Muslim areas taking revenge. This came after years of attacks in which thousands of Christians were killed, while the government forced Christians to just bury their dead and restrain themselves.
Read more

CHRISTIAN SLAVES IN PAKISTAN –
Thousands of Pakistani Christians live like slaves in Punjab's Muslim-owned brick kiln industry. Working as bonded labor, employees rise at 4 a.m. to make more than 1,000 bricks from mud.
Read more
JEW HUNTING SEASON IN FRANCE –
France is presently prey to one of the worst waves of anti-Semitism in its history ; this wave is not receding, rather, it is intensifying. According to the annual report published by the Protection Service of the Jewish community, 2011 was a bad year, and 2012 will be worse.
Read more
BISHOP: CHRISTIANS SAFE IN SYRIA –
Speaking of Syria's President Assad a Catholic Bishop said, "The Christians were protected by the regime because they are a minority like him, so we can say that they were protected." The fact that Syria is the only nation in the Middle East where Christians are safe does not play well in Washington, DC with an Administration that is hell bent on establishing Sharia law in that nation.
https://religiousfreedomcoalition.org/wp-content/uploads/2012/06/LesbianWhiteHouse1.jpg
267
200
Air Spark
https://religiousfreedomcoalition.org/wp-content/uploads/2020/03/RFCFinal.jpg
Air Spark
2012-06-23 10:30:12
2012-06-23 10:30:12
Report From Washington - June 22, 2012