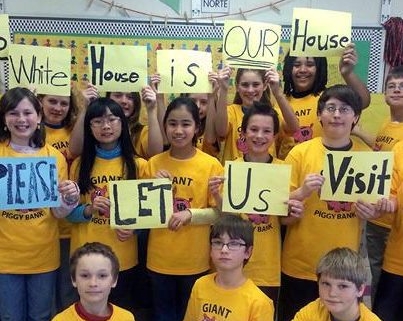 Editor: William J. Murray
In this issue: Money for Muslim Brotherhood but not for White House tours for kids / State Department award to anti-Semite / The White House and Saudi persecution of Christians / House bill to protect religious liberty in ObamaCare / Senator slams Muslim Brotherhood / Senator grills Eric Holder on social issues / Leftist congressmen mourn dictator Chavez death / Coptic Christians fear US support of Muslim Brotherhood / Imam who says woman deserve rape tries to rape woman / Boko Haram attacks army garrison dung their "cease fire" / 209 schools destroyed by Boko Haram in one state / Blood runs in the streets of Bangladesh so your shirt from Kohl's can be 100% Muslim
The Presidency

Money for Muslim Brotherhood but none for White House tours – Egyptian President Mohamed Morsi has his own personal piggy bank for his totalitarian Islamist goals in the Middle East. Thanks to Secretary of State John Kerry and his boss, Barack Obama, Islamist Morsi and his Muslim Brotherhood are being showered with $1 billion in aid from the U.S. We get to pay for the destruction of freedom in the Middle East, while kids are barred from the White House tours for "lack of funds." Read more
State Department award to anti-Semite – The Weekly Standard first reported that the First Lady and the Secretary of State would "honor" a woman who said it was "sweet news" when Israelis were killed in a bus bombing. The woman, Egyptian born Samira Ibrahim, has quoted Hitler on Twitts and frequently proclaims the 9-11 jihad attack on the United States as a great day for Islam. Decisions such as this explain why the State Department is referred to as "Foggy Bottom" here in Washington, DC. Read more
The White House and Saudi persecution of Christians – In the last two weeks I have written a column for WND.COM and appeared on radio shows including Mike Huckabee's national show to expose the persecution of African Christians who are guest workers in Saudi Arabia. I have posted stories on Facebook that have had thousands of visits. I placed an online petition asking congressmen to speak out against the Saudi persecution of Christians. That petition can be faxed for free to your congressman if you will sign it. The net result of my two weeks of work is 14 people who have contacted their congressman. I am flat out ashamed at the response and embarrassed to actually show up at a congressman's office claiming I have support from the American Christian community to stop the persecution and torture of Christians in Saudi Arabia. No wonder Barack Obama is so confident of his support for the Muslim Brotherhood and Saudi Arabia.
Congress
Senator grills Holder on social issues – Senator Ted Cruz (R-TX) grilled Attorney General Eric Holder on his views about using armed drones to kill Americans on US soil, and on the Obama Administration's refusal to enforce laws that it does not like – rather than upholding all laws passed by Congress. Cruz noted that Holder's DOJ has refused to enforce voter intimidation laws against the New Black Panthers; has chosen not to defend the Defense of Marriage Act; and has chosen to ignore laws involving illegal immigration. Read more
Bill to protect religious freedom in ObamaCare – Congressmen Diane Black (R-TN), Jeff Fortenberry (R-NE), and John Fleming, M.D. (R-LA) held a press conference to announce the introduction of the Health Care Conscience Rights Act (HCCRA). This legislation would protect Americans' First Amendment rights and would stop the Obama Administration's assault on religious freedom. HCCRA offers a reprieve from ongoing violations of our First Amendment, including full exemption from the Obama Administration's Health and Human Services (HHS) mandate and conscience protection for individuals and health care entities that refuse to provide, pay for, or refer patients to abortion providers because of their deeply-held, reasoned beliefs. HCCRA has 50 original co-sponsors. Read more
Senator slams Muslim Brotherhood – Sen. John Cornyn (R.-TX) condemned Egypt's Muslim Brotherhood on Sunday evening for "trying to create a new Islamic dictatorship" in the Middle East. "The Muslim Brotherhood president in Egypt is trying to create a new Islamic dictatorship," Cornyn said during a speech before thousands of delegates at the American Israel Public Affairs Committee's 2013 policy conference. Read more
Facebook.com/ReligiousFreedomCoalition for daily posts!
Religion and Culture
Congressmen and media mourn Chavez – At news of the death of Venezuelan dictator Hugo Chavez, the left-wing mainstream media and a few Democrat allies came out of the woodwork to mourn the human rights violator extraordinaire. Democrat Rep. Jose Serrano (D-NY) led the way with a tweet suggesting that Chavez "was a leader that understood the needs of the poor. He was committed to empowering the powerless. R.I.P. Mr. President." Read more
International

Egypt: Coptic Christians fear US support of Morsi – Thanks to Barack Hussein Obama, Coptic Christians in Egypt are being increasingly persecuted and marginalized under the Muslim Brotherhood regime of Mohamed Morsi. The Obama Administration helped oust Hosni Mubarak, which paved the way for the rise of Islamic tyranny in Egypt under Morsi. Read more
Denmark:- Uncovered women deserve rape – Imam Shahid Mehdi declared on TV that women who don't wear hijabs or burkas or who leave the house deserve to be raped. To prove his pint he actually tried to rape a woman in a public park in Copenhagen. Read more
Nigeria – Boko Haram attacks army during their "cease fire" – At least 20 people have been killed in a foiled attack on a military site in Borno state. The attack happened on Sunday in Monguno village in Borno state. Meanwhile Governor Ibrahim Gaidem of Yobe State said that the Boko Haram has destroyed 209 schools in that state.
Bangladesh – Is that blood on your shirt? – Most of those Khol's shirts for men now come from Bangladesh. Check them for Christian and Hindu blood. Acts of violence, especially against Bangladesh's Hindu minority, and strikes (hartal) continue across the country as Jamaat-e-Islami supporters call for reunification with Pakistan, and the creation of a "pure" state, free of its non-Muslim population.Read more
Join me in a fact finding mission to Israel – A once in a lifetime mission led by William J. Murray, William Federer and Frank Gaffney, all three experts on Israel and Islamic affairs. Not a standard "tour," the mission includes visits to settlements and military bases plus evening panels. Limited time for $400 discount! Read more
More from the Religious Freedom Coalition
New Chairman's Report – Now available, the February 28th, 2013 edition of the Religious Freedom Coalition Chairman's Report. In the current issue: In this issue of the Chairman's Report: Former Mayor Edward Koch warns of the dangers of Islam from the grave / Obama Administration vetoes UN resolution against terrorist car bombing / Car bomb kills dozens in Aleppo – Christians at risk /  Saudi religious police arrest African Christians / Obama sees no Saudi evil / Free fax to your congressman on Saudi evil / Congressman Franks works for release of pastor in Iran.
My Life Without God – William J. Murray's first book, My Life Without God, is now back in print as the 30th anniversary of his atheist mother's lawsuit to remove prayer form the schools approaches. Murray writes of his life in the dysfunctional home of infamous atheist/Marxist leader Madalyn Murray O'Hair. Learn more
Christian Bookstore and more – books, CD's, DVD's, cards and much more available at the Religious Freedom Coalition Internet Store. Please visit today!
https://religiousfreedomcoalition.org/wp-content/uploads/2013/03/WhiteHouseKidsTour.jpg
366
403
Air Spark
https://religiousfreedomcoalition.org/wp-content/uploads/2020/03/RFCFinal.jpg
Air Spark
2013-03-08 16:02:20
2013-03-08 16:02:20
Report From Washington - March 8, 2013