Some areas open, others not: Our ministry partners in the Middle East have begun preparations for Christmas programs regardless of the uncertainty. Areas that were locked down during the early Covid-19 outbreak and then reopened are once again in lock-down. Will those areas be open in December? Honestly, there is no way to know.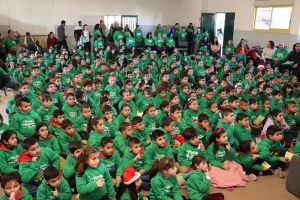 If we do not prepare for the Christmas events for the children in areas that are indeed open, there will be great disappointment. If we do prepare and then all areas are in lock-down, that represents another problem.
Shutting down the entire Christmas for Refugees program is like shutting down a complex machine. Getting it to run again a year later will be very difficult. The best course is to prepare, and then adjust the program as needed for the circumstances in December.
There is one certainty: Localities will more than likely require that we hold smaller events, which means more planning and a lot more work for volunteers.
Planning is made even more difficult by the Covid-19 crisis back home here in the United States. This summer two of our team here tested positive for Covid-19, which almost entirely closed our office for two weeks. (More on that later)
Christmas planning has been set back. Normally the trust fund for the Christmas program's matching gift challenge would have already been set up. Instead, it is still in process. Rather than focus on Christmas I needed to raise funds for the Christian victims of the Lebanon explosion.
I have faced challenges in ministry this year that I never faced before.
Overall, our Diapers for Refugees and Christmas for Refugees programs are running late this year. Please pray for our ministry team and all those we work with in the Middle East, particularly the victims of the Beirut explosion. There is tremendous uncertainty!
William J. Murray, President
https://religiousfreedomcoalition.org/wp-content/uploads/2020/09/IMG_5628-scaled.jpg
1707
2560
Claire Marlowe
https://religiousfreedomcoalition.org/wp-content/uploads/2020/03/RFCFinal.jpg
Claire Marlowe
2020-09-02 10:04:48
2020-09-02 10:05:12
Christmas Program Starts Up During Uncertainty