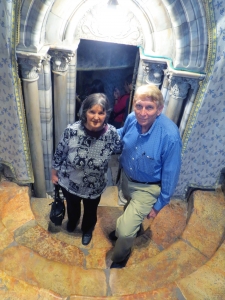 New Diaper Program: The coronavirus was introduced to the Bethlehem area by Christians on a pilgrimage from South Korea. No infections were reported until more than two weeks after they left.
Some areas of the Church of the Nativity are small, such as the Grotto of the Nativity. Often areas of the church are very crowded, with virtually no fresh air.
My wife and I have been there many times and in 2017 came across a large group of Korean Christian pilgrims who were singing beautiful hymns in one of the chapel areas.
This year the Korean Christian pilgrims who were infected before leaving Korea also ate at the breakfast buffets this Middle Eastern area of the world is well known for. That is an example of the complexity of a virus spreading.
The situation in the West Bank comes just as we had begun a diaper program at a nursing home for very elderly Christians who are in need of constant medical aid. A local charity provides the beds and medical care, but families must bring in adult diapers which are very expensive there. There is no state program there such as Medicare. The elderly are on their own.
The adult diaper program will be a small start for us, as there are only 30 residents of the nursing home. Almost half do not have family members who can afford the diapers and must depend on occasional gifts. We would assure them a monthly supply.
Please be in prayer for those in the nursing home there. Many of those who died of the coronavirus in Washington State were from just one nursing home.
For now all we can do is pray that funds will be available to wire to those carrying out our programs and that sanity will return to the American financial system somehow.
William J. Murray, President
https://religiousfreedomcoalition.org/wp-content/uploads/2020/03/Bill-and-Nancy-scaled.jpg
2560
1920
Claire Marlowe
https://religiousfreedomcoalition.org/wp-content/uploads/2020/03/RFCFinal.jpg
Claire Marlowe
2020-03-20 09:35:56
2020-03-20 09:49:40
Bethlehem, Diaper Program and the Coronavirus