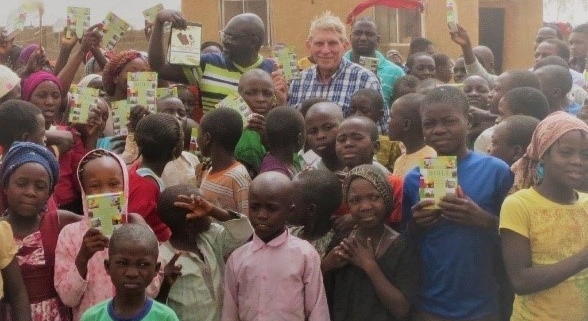 I want to share my heart with you about the orphanage we support in Nigeria.
I have been terrified with the thought that the Covid-19 virus would penetrate the walls around the orphanage. Medical care for the Christians of Nigeria is hard to obtain. The level of corruption in the country is unimaginable. Officials get rich while the money from the sale of oil does not benefit the people. Except for a few very expensive private hospitals, the medical system is truly Third World.
I pray daily that the Lord will place a hedge of protection around these orphans who are threatened not only by disease but also by deadly attacks from the Sunni Muslims of the Boko Haram and Fulani Herdsmen.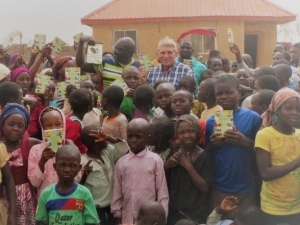 These children are special to me; almost all of them have lost one or both parents to Islamic terror attacks on their villages. Some of the children have deep scars and even bullet wounds.
I have been with the children at their orphanage in Nigeria. I have seen their physical scars and felt their emotional scars as they talked about their lost parents.
Among the orphanages in Plateau State, it is one of the few that are totally centered on the Lord.
The situation of the persecuted church in Nigeria is heartbreaking. On my last trip, I spent a full day at a nearby camp with over 30,000 displaced Christians driven from their homes by the Boko Haram or Muslim Fulani Herdsmen. It is just one of many camps in Benue State.
There are now nearly a million Christians who have been forced from their homes and villages by Sunni Muslims expanding south from the Sharia Law dominated states. There is no way for us to help them all, but we can help a few; we can make the lives better for some children whose parents have been murdered by Sunni Muslim gangs.
When I saw the needs of this small orphanage in Plateau State, the Lord really touched my heart. In spite of their poor diet and difficult living conditions at the orphanage, the children praised the Lord each day.
Their earthly fathers have been taken from them, but they know they have a heavenly father to love them. The work of the Lord is clearly present in the lives of the children.
I wanted so desperately to fly to Nigeria in March of this year and see for myself all the changes we have been able to bring to the orphanage since I first visited two years ago.
As flights everywhere were canceled because of Covid-19 we still held hope, but in the end ALL flights were shut down by President Trump.
I am not giving up on getting back to the orphanage. The visas are good for two years, so I changed the flights to this September in hope it may be possible to go by then. If not, perhaps we can move the mission trip to April of next year.
William J. Murray, President
https://religiousfreedomcoalition.org/wp-content/uploads/2020/06/5.jpg
441
588
Claire Marlowe
https://religiousfreedomcoalition.org/wp-content/uploads/2020/03/RFCFinal.jpg
Claire Marlowe
2020-06-03 10:07:59
2020-06-03 10:08:35
The Nigeria Orphanage and Coronavirus