In this issue of the newsletter
New: Increase in number of children to participate in Christmas for Refugees
New: Program changes include package of Christian books and workbooks
New: Matching gift challenge not yet met – Our walk is by faith not sight
New: Turkey – our NATO ally – commits atrocities and persecutes Christians
Christmas for Refugees planning for 2020
How many children?: Officially this year's goal is that Christmas programs will reach 10,000 children and their families. In 2019 our goal was to have enough for 10,000 children; but we were able to serve 12,000 total! This was by savings and the use of volunteers.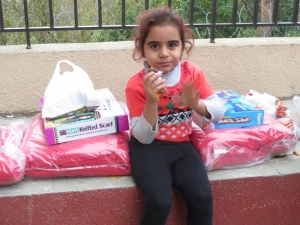 As of today, the actual number of children we will reach may be far more than in 2019 because of hybrid programs, particularly in hard hit Lebanon which currently is hosting 1.5 million Syrian refugees.
That means out of Lebanon's population of 6 million, 25% are refugees from Syria. The refugee burden is one of the factors that has destroyed the Lebanese economy.
Among those 1.5 million Syrian refugees are tens of thousands of Christians we are trying to help.
Doubled: As of today, the proposed number of Syrian Christian refugee children participating in Lebanon is doubled from 2019. In Lebanon and Syria alone, more than 7,000 children could join in our programs held in churches.
Please be my prayer partner for the Christmas for Refugees program to go far beyond any "official goal" and instead trust God to help us reach many children with the true meaning of Christmas, while helping them and their families materially.
Matching gift program challenge not yet met: This year the Leadership Circle consisted of 90 dedicated Religious Freedom Coalition supporters who have together set up a matching gift challenge fund of $140,000.
As I mentioned in the last newsletter, I was surprised by the size of the Matching Gift Fund considering all else that was happening during 2020, including the Covid-19 virus and the draconian lockdowns in some cities and states. Some of those who helped set up the matching gift fund live in cities where there has been continued rioting and looting for months.
One of the most generous participants in setting up the Matching Gift Fund lives in Portland, Oregon! How bad is it in Portland? A black owned business was vandalized there because the owner gave free sandwiches to first responders and nurses.
Doubling the number of children in Lebanon and Syria depends upon the Matching Gift Fund being met 100%
The challenge of the matching gift fund has not been met. We are not at the halfway point in matching the $140,000 yet.
The funds in the Matching Gift Fund are actually in trust. Those funds cannot be honestly used until the challenge of the fund is met. To have full access to the $140,000 another $140,000 must be raised.
I only have access to the funds in the Matching Gift Fund as matching gifts come in. If a supporter sends $50 for Christmas for Refugees, then I can remove $50 from the Matching Gift Fund. This is a real time matching fund.
A donation of $50 literally does become $100 when it is received. The matching fund is not virtual; it is real. Every dollar that is donated actually does become two dollars the day it is received until we reach the $140,000 Matching Gift Fund the Leadership Circle set up this year.
On October 26th the first funds for Christmas for Refugees were wired to Lebanon and the West Bank to begin purchases.
By the end of November, approximately 90% of the funds must be in place and purchases made.
Will we make it? I have full faith and trust in the Lord that as each transfer of funds needs to be made, that the cash will be in the bank. I am taking this walk with faith and believe the Lord has put the path before me.
For we walk by faith, and not by sight. 2 Corinthians 5:7 (1599 Geneva Bible)
Pandemic causing big changes in the Christmas programs this year
Most events will change! A few weeks ago I wrote to some Religious Freedom Coalition supporters telling them about the changes in Christmas for Refugees this year. The information
below on the changes may be repetitive for some:
The situation in Bethlehem and Beit Sahour in what is called the West Bank became so fluid that alternate plans had to be made. There would be stretches of three or four days with no lockdown — and then weeks at a time with no public meetings.
It became apparent that there could be no Christmas events held in Bethlehem as before, so an alternate plan was made that brings help to the children while reminding them of the true reason for Christmas despite the suffering they have seen.
The proposal I received for Bethlehem would reach the children with material aid and still would remind them of the true meaning of Christmas.
As I received reports from other Middle East nations it became apparent to me that the plan for Bethlehem should be implemented in Lebanon, Jordan, and Iraq as well. There is no need to change the Christmas for Refugees program in Nigeria, because the children live in an orphanage.
But everywhere else we must make big changes.
These are the new guidelines for the 2020 Christmas for Refugees program
All children will be under 15 years old.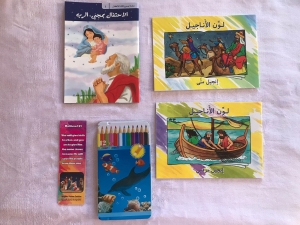 All children will still come to a designated location at a specified time and will receive a package consisting of educational Christian books and materials, along with gifts for each child.
When they arrive at the church or school, the children will enter one at a time. As they walk through there will be Christmas scenes and Christmas music and hymns.
Staff at the door will allow just one child at a time, making sure they use available hand sanitizer, and each will receive a handstamp. The purpose of the handstamp is to ensure that each child receives only one Christmas package. Other staff will be available to clean and distribute gifts.
Local churches and Christian schools of all denominations will allow us to use their facilities and they will also provide volunteers. Over the last eight years the Christmas for Refugees program has brought together Christians of different denominations, recognizing their shared love for God and His son Jesus.
With this new program, we will aim to bring joy to children and remind them that they are living for God with the joy of Salvation through His son Jesus.
We hope the children will use what they receive to prepare themselves for Christmas and get their minds set on the significance of the birth of Jesus Christ our Savior.
Each child will receive a package containing:
Two Christian books for children and a bookmark with Scripture. The books
can help the children in their walk with Jesus and teach them the power of
prayer.
A Bible themed activity book with puzzles, coloring and word games centered
on Bible stories. A coloring set of pencils or crayons will be included.
Each will receive an age appropriate gift to enjoy the Christmas season.
Depending on area, the gifts range from toys to warm winter coats.
In some areas, each child's family will receive a hygiene kit containing personal essentials such as toothpaste, soap, shampoos and cleaning supplies for the home. In other areas the families will receive vouchers for food for Christmas.
Although the children will not be able to meet together, the programs will have a positive and lasting impact on their well-being and spiritual condition.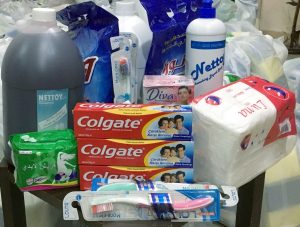 Even though there will not be live events, children will get to enjoy an away from home visit to get their gifts, as it will likely be their only chance of celebrating Christmas during COVID-19.
We know the families will be incredibly grateful for the love shown them by their brothers and sisters in Christ in America. This year's program will lift the spirits of the entire family — as their economic situation has been made even worse by the Covid-19 lockdowns imposed on them.
This year's Christmas for Refugees program will serve as a spiritual and material lifeline allowing the children to have the joy of Christmas and reminding them of the true reason for Christmas. Our programs will give the children many of the things that their parents will be unable to give them this Christmas.
Christians in the Middle East need encouragement not to fall away from the churches – and the Gospel that is taught there.
Other missions and advocacy in Washington
Everything does not stop for Christmas planning! Although Christmas for Refugees is our biggest and most expensive mission project this year, other work continues. Our Diapers for Refugees program that includes diapers for the elderly and disabled in the Holy Land continues. I just received a letter of thanks form the Antonian Charitable Society in Bethlehem. One line of the letter tells our story: "Our elderly residents never stop showing their sincere thanks and appreciation for your wonderful monthly donations of elderly diapers."
Turkey's continued atrocities: You have probably read about Turkey's intrusion into Greek waters with an oil research ship. Turkey's "president" Erdogan, has said he will not honor treaties and intends to just take the natural gas. Erdogan also has troops in Libya and Syria. He recently has helped Sunni Muslim Azerbaijan in a border war with Christian Armenia.
In areas of Syria that Erdogan's troops are occupying, land is being stolen from Christians and Shia Muslims. The Christian schools have been shut down. His troops are nearly as bad as the Islamic State in their treatment of the people.
I am participating with other groups to call attention to the persecution of Christians in the northern areas of Syria occupied by Turkey. The Trump Administration has heard us and sanctions against Turkey are coming!

Christians in Nigeria are facing greater persecution than ever before. An orphanage we support in Plateau State, Nigeria has selflessly opened its doors to hundreds of children, many of whom have lost one or both of their parents to attacks by Muslim Fulani Herdsmen and the Boko Haram. Before we began supporting this orphanage, children were provided gruel two times a day and protein on special occasions. By partnering with our supporters, we have been able to provide protein-based meals to these children every day in 2020. We also established a fully functioning farm operated by the older children to provide fresh produce to the orphanage.
However, the Coronavirus pandemic has made it difficult to acquire the necessary funds to continue this program in 2021. We desperately need your help to continue providing these Christian children protein-based meals. The persecution against Christians in Nigeria continues to rise at rapid rates…help us take away one worry from this Christian orphanage that has already given so much. We need your help this #GivingTuesday to provide healthy meals with protein.
Click the link below to learn more about #GivingTuesday and this situation in Nigeria. Any donation given before December 1st will still count towards our #GivingTuesday totals!
https://religiousfreedomcoalition.org/wp-content/uploads/2020/11/IMG_3803-scaled.jpg
1920
2560
Claire Marlowe
https://religiousfreedomcoalition.org/wp-content/uploads/2020/03/RFCFinal.jpg
Claire Marlowe
2020-11-13 08:17:12
2020-11-13 08:17:14
The Chairman's Report for November 13, 2020