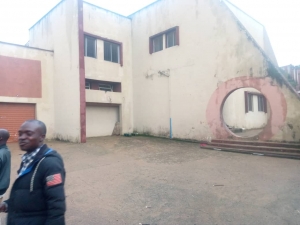 Building rented in Jos city: The Religious Freedom Coalition has transferred the funds to Nigeria to rent a 15 room building as a dorm for the younger children displaced after the orphanage in Miango was destroyed by Sunni Muslim Fulani herdsmen.
The building is within Jos City and is about 30 kilometers from where the orphanage was located in Miango.
I authorized the rent to be paid for one full year in advance.
The building is larger than the photo of the entrance shown. We can house 100 of the 147 children here temporarily. Other housing is being arranged for the older children.
To save funds, the metal bed frames from the burned-out dorm buildings at the Miango orphanage are being salvaged. The frames are being cleaned and will be moved to the new building. The orphanage director is now working on obtaining new mattresses. Meanwhile the students are in temporary housing in homes in Jos city.
William J. Murray, President
https://religiousfreedomcoalition.org/wp-content/uploads/2021/08/WhatsApp-Image-2021-08-14-at-3.29.48-PM.jpeg
780
1040
Claire Marlowe
https://religiousfreedomcoalition.org/wp-content/uploads/2020/03/RFCFinal.jpg
Claire Marlowe
2021-08-18 17:26:59
2021-08-18 17:29:42
Building rented for children from destroyed orphanage