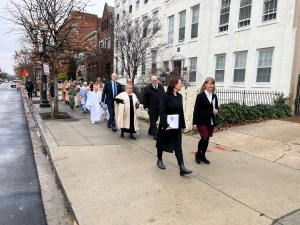 A Camel on Capitol Hill: The Religious Freedom Coalition has participated in a live Nativity program on Capitol Hill for the last 19 years.
The live Nativity is a great way to spread the message of the true meaning of Christmas in our nation's capital, especially at a time when there are so many attacks on our faith from the establishment.
For Christmas 2022, scheduling did not allow William Murray to attend. I was honored by the opportunity to represent the Religious Freedom Coalition.  Vice President of Faith and Liberty, Peggy Neinaber and I led a procession of pastors and key leaders to the Supreme Court Building.
The readings of the Scripture announcing the coming of our Lord is normally read on the steps of the Supreme Court building. This year protestors occupied the front steps when we arrived to set up the sound equipment.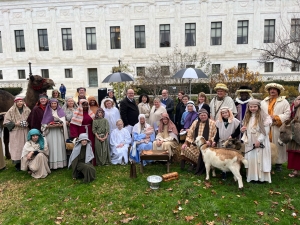 After quick deliberation, it was decided to move the event to the south side of the building where we would still be in view of bystanders but would have the opportunity to communicate our message without distraction.
Once set up at the Supreme Court we read the account of the birth of Jesus from the Gospel of Luke and sang Christmas carols with the costumed  participants in the Nativity. A costumed baby Jesus was central to the theme of our message.
The live animals were a definite showstopper and sparked the curiosity of many passing by. Shepherds walked with live sheep to see the newly born King. The crowd favorite proved to be Delilah the camel — after all it's not often that you see a camel on the streets of the nation's capital!
Participation in the Live Nativity is one of the many ways the Religious Freedom Coalition shares the gospel and social conservative values on Capitol Hill.
Please pray for our missions on Capitol Hill, the Middle East and Nigeria. And please pray for Bill and Nancy as they travel to Nigeria this month.
Mandy Marlowe, Vice President
https://religiousfreedomcoalition.org/wp-content/uploads/2022/12/image7-scaled.jpeg
1920
2560
Claire Marlowe
https://religiousfreedomcoalition.org/wp-content/uploads/2020/03/RFCFinal.jpg
Claire Marlowe
2022-12-16 12:07:26
2022-12-16 12:07:28
The Live Nativity on Capitol Hill