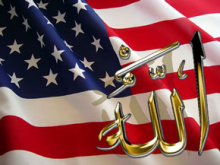 Obama's new gay and Muslim immigration policy / Hillary Clinton backs both gay rights and Islamic blasphemy laws? / Senator Durbin tries to shut down commission on religious freedom / Ft. Hood jihad attack was really "workplace violence? ? Shutdown of commission on religious freedom / Blasphemy laws coming to USA / Poland's first Islamic honor killing / "Moderate" London mosque speaker's call to enslave Jewish women / Leave, you dirty Jew
THE PRESIDENCY

OBAMA, GAYS, MUSLIMS AND IMMIGRATION –
President Obama has in effect ordered U.S. agencies to import homosexuals from all over the world who are "threatened." Thus anyone who walks into a U.S. embassy anywhere in the world where homosexual activities (including gay marriage) are illegal, can claim to be gay and be immediately put at the front of the line to immigrate to the United States. How, after all, could officials disprove a person's "gayness?" At the same time he has opened the gates to Islamic "refugees."
Read more

SECRETARY CLINTON, CHAMPION OF GAY RIGHTS –
On December 6th at a conference in Geneva, Switzerland, attended by diplomats from all over the world including Arab nations, Secretary Clinton compared the struggle for "gay equality" to women's rights and racial equality. She said that a nation's cultural or religious "traditions" are not an excuse for discrimination against homosexuals. "Gay rights are human rights, and human rights are gay rights," she said. "It should never be a crime to be gay," Clinton declared and concluded that, "Gay people are born into and belong to every society in the world."
CLINTON TO BACK BLASPHEMY LAWS? –
For more than 20 years, the Organization of Islamic Cooperation (OIC) has pressed Western governments to restrict free speech. Its charter states a goal "to combat defamation of Islam," and it wants "deterrent punishments" by all states to counter Islamophobia. Secretary of State Hillary Clinton appears ready to buy into the idea of limited free speech worldwide if Islam is the subject.
Read More

CONGRESS 
SENATOR DURBIN TRIES TO KILL U.S. COMMISSION ON INTERNATIONAL RELIGIOUS FREEDOM –
Senator Dick Durbin (D-IL) wants the federal government to buy a bankrupt private prison in his home state of Illinois to "create jobs." To get the bucks for the deal he has put a hold on the funding for the U.S. Commission on International Religious Freedom, the only body that spotlights abuses of religious minorities. The appointees of the USCIRF are not even paid! — and it is about the most efficient body associated with the federal government. Please contact
Senator Durbin
and ask him to remove his hold for funding of the USCIRF. If you do not live in Illinois his email system rejects messages. Call his office at 202.224.2152 or send a fax to 202.228.0400

SENATOR TO OBAMA: FT HOOD ATTACK NOT "WORKPLACE VIOLENCE" –
During a joint session of the House and Senate Homeland Security Committees on December 7th, Senator Susan Collins (R-MA) blasted a letter by the Department of Defense labeling the Fort Hood jihad attack by Major Nidal Hasan, as a case of workplace violence. Hasan killed 14 people including an unborn child and wounded 29 others on November 5th 2009.
Read more

RELIGION AND CULTURE
SHUTDOWN OF RELIGIOUS FREEDOM? –
The U.S. Commission on International Religious Freedom (USCIRF) will cease to operate if Congress does not pass and President Obama does not sign into law no later than Dec. 16, legislation either reauthorizing it or continuing its funding. USCIRF is currently funded in a spending bill that expires on that date. Human rights activist Faith McDonnell said, "Dissolution of USCIRF would send a message to tyrants and thug regimes around the world that the United States no longer considers religious freedom a priority."
Read more

BLASPHEMY LAWS COMING TO AMERICA? –
The topic of blasphemy codes, found in num
erous Muslim-majority countries around the world, including Pakistan, is the subject of Paul Marshall and Nina Shea's recently-released 448-page book,
Silenced: How Apostasy and Blasphemy Codes Are Choking Freedom Worldwide
.
Read more

MORE FROM THE RELIGIOUS FREEDOM COALITION

NEW CHAIRMAN'S REPORT
– Now available, the Chairman's Report for November 23, 2011. In this issue: The Constitution or Sharia Conference in Nashville was a great success despite cancellation by the host hotel. Details in this Chairman's Report

LEARN MORE ABOUT SHARIA LAW –
One of the best locations on the Internet to learn about Islamic Sharia law and its effect on the West is
www.shariafreeusa.org

INTERNATIONAL
POLAND'S FIRST HONOR KILLING –
A prosecutor in Sieradz says that Poland has probably seen its first case of honor killing. A 34-year old mother of four named Agnieszka was murdered two years ago in June. Prosecution has accused a 40-year old Pakistani called Naaem, who has lived in Poland for 10 years. The investigation, according to prosecutor Józef Mizerski, is not a typical one in Poland. It is known as "the honor killing". In Pakistan, in 2007 alone, 1261 women lost their lives and none of the perpetrators was held responsible", says Mizerski.
Read more

LONDON'S MORE MODERATE MOSQUE –
A speaker at the "moderate" East London mosque is responsible for the following statement: Sheikh Saad al-Beraik, who has reportedly stated: "Muslim brothers in Palestine, do not have any mercy neither compassion on the Jews, their blood, their money, their flesh. Their women are yours to take, legitimately. God made them yours. Why don't you enslave their women? Why don't you wage jihad? Why don't you pillage them?"
Read more

DIRTY JEW, GO TO YOUR COUNTRY –
What happens when a young Jewish girl from Belgium is brutally attacked by Muslim schoolmates? Police fail to handle the incident, while the school and politicians turn a blind eye. A Yedioth Ahronoth correspondent meets with Oceane Sluijzer, whose assault has shocked Europe's Jewish communities.
Read more
CHRISTIAN INTERNET STORE


CHRIS
TIAN STORE FOR CHRISTMAS-
We have lots of great gifts for Christmas at our Internet store. Not only are there books and CD's, but everything from candy to jewelry and all of it has a Christian theme. Unlike Amazon and other major Internet stores we do not sell porn and satanic materials right beside Christian books. Ours is a real Christian store with tens of thousands of items. Please take a look. The store is located at
www.rfcstore.com
https://religiousfreedomcoalition.org/wp-content/uploads/2011/12/USFLAG-ISLAM.png
165
220
Air Spark
https://religiousfreedomcoalition.org/wp-content/uploads/2020/03/RFCFinal.jpg
Air Spark
2011-12-09 15:09:02
2011-12-09 15:09:02
Report From Washington - December 9, 2011