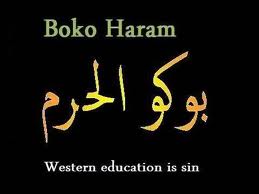 The Boko Haram and the State Department Terror List / State refuses to condemn Boko Haram despite mass killings / Congressmen defend the Cross at Camp Pendleton / Military religious Freedom Protection Ac to be voted one in Congress / Muslim group says that Muslims should not serve in law enforcement / Air Force says no Bibles needed in hotel rooms / UK "Lord" offers bounty on Bush and Obama / Boko Haram kills more people this week / Egypt TV says Egyptian Christians are traitor
s.

P
RESIDENCY
BOKO HARAM AND THE TERROR LIST –
The State Department maintains a list of
Foreign Terrorist Organizations
. The Boko Haram, which murders Christians almost daily, is not on that list. Despite major bombings of churches in Nigeria on Christmas and Easter the Obama Administration's State Department continues to claim that the Islamist Boko Haram is "not motivated by religion." This week I met with congressmen and Senators to request a letter of demand to Obama's Secretary of State, Hillary Clinton, that the Boko Haram be added to the Foreign Terrorist Organizations list. I will keep you informed.

STATE DEPARTMENT BLOCKS EFFORTS TO CONDEMN BOKO HARAM –
The House Subcommittee on Homeland Security has urged that Boko Haram be designated a terrorist group but Obama's State Department is doing everything possible to sabotage the effort. The lies are coming fast and thick. In the New York Times, Jean Herskovitz wrote an op-ed insisting that there was no Boko Haram, suggesting instead that random criminal gangs were really responsible for the mass murder of Christians.
Read more
.
CONGRESS
DEFENDING CROSS AT CAMP PENDLETON –
Rep. Randy Forbes (R-VA), founder and Co-Chairman of the Congressional Prayer Caucus, was on the Mike Huckabee radio show this week defending two memorial crosses at Camp Pendleton. The Military Association of Atheists and Freethinkers (MAFF) is threatening to file a lawsuit if the crosses are not removed from the military base, where they sit atop a hill as a memorial to fallen service members.
Read more

RELIGIOUS FREEDOM FOR CHAPLAINS –
Military chaplains representing the majority of denominations face career penalties for expressing sincerely held religious or moral beliefs on same-sex marriage. There are no conscience or religious freedom protections for chaplains and the Obama Administration supports open homosexuality in the military. Support is needed for the
Military Religious Freedom Protection Act
. A vote on the bill may come on April 29th. Please
contact your congressman
today.
RELIGION AND CULTURE


MUSLIMS SHOULD NOT BE COPS IN USA –
The Assembly of Muslim Jurists of America (AMJA) cautioned American Muslims in a 22-page Arabic-language paper in 2008 against working in law enforcement in countries which do not rule by Allah's dictates. One of their main concerns was that such work might cause Muslims to gain love and respect for secular laws. It is not often I agree with a Muslim group, but I also do not think Muslims should be in law enforcement.
Read more

AIR FORCE: NO BIBLES NEEDED –
After receiving a complaint by the Military Association of Atheists and Freethinkers (MAAF), the Air Force removed "Is a Bible provided?" from the checklist that staff at Air Force Inns use when ensuring that rooms comply with lodging standards. Air Force Inns are temporary lodging facilities found at most major Air Force installations.
MORE FROM THE RELIGIOUS FREEDOM COALITION

CONSTITUTION OR SHARIA CONFERENCE DVD –
This is the complete set of DVD's from the November 11, 2011 Constitution or Sharia conference in Nashville, Tennessee. The Constitution or Sharia: Preserving Freedom Conference, was the first true national conference on Sharia and the Islamization of America sponsored by major freedom oriented organizations! It was not just another educational conference. How do deal with and stop implementation of Sharia law in the United states was outlined by speakers and in panels.
Order today

NEW APRIL CHAIRMAN'S REPORT –
Now available, the
April 19th edition
of William J. Murray's Chairman's' Report. IN THE ISSUE:The many attacks on religious freedom by the Obama Administration in the United States, and the Obama Administration's efforts to establish Islamist regimes in the Middle East. Why the Obama Administration will not declare the Boko Haram a terror group.

LEARN MORE ABOUT SHARIA LAW –
One of the best locations on the Internet to learn about Islamic Sharia law and its effect on the West is
www.shariafreeusa.org
FACEBOOK FAN? Sharia Free USA now has a Facebook page with more than 1,500 followers. Join with us at
Facebook
today!
INTERNATIONAL


"LORD" OFFERS $16 MILLION BOUNTY ON OBAMA AND BUSH –
The first Muslim member of the House of Lords has been suspended from his post by the Labour Party after he offered a bounty of $16 million for the capture of Presidents Bush and Obama. He offered the bounty to show his solidarity with a Pakistani terrorist who planned the murderous attack on Bombay Hotels; the terrorist, Hafiz Saeed, is being sought by United States forces. This is the same "Lord" Ahmed who killed a man when he drove his car into him while texting in 2009. He served 12 weeks in jail but the Labour Party stood with the Muslim.
Read more

BOKO HARAM KILLS MORE –
Gunmen from the Islamist Boko Haram killed at least seven people on Thursday and Friday in attacks in northern Nigeria. The media reports the victims as "civilians," but the attacks were against Christian businesses including a water vendor and a bakery. Meanwhile the Boko Haram issued a statement that they would kill Nigeria's' Christian president within three months, and the U.S. government warned of a large scale attack in the Nigerian capital.
EGYPTIAN CHRISTIANS ARE TRAITORS –
That was the message on TV to all Christians in Egypt who visit Holy sites in Israel. Watch this stunning video and imagine you are a Christian watching TV in Egypt. With the secular government moving to the sideline and the Muslim Brotherhood coming to power, those who preach anti-Semitic hatred and Christian bashing are becoming more bold in the Egyptian media.
See Clip here
.

BOOKS BY WILLIAM J. MURRAY
Now available at our online store.

Books by William J. Murray
https://religiousfreedomcoalition.org/wp-content/uploads/2012/04/Boko-Haram-Logo.jpg
194
259
Air Spark
https://religiousfreedomcoalition.org/wp-content/uploads/2020/03/RFCFinal.jpg
Air Spark
2012-04-20 20:57:24
2012-04-20 20:57:24
Report From Washington - April 20, 2012