In this issue of the newsletter
Update: New orphanage location: Beds with new mattresses delivered
Update: Orphans move into new quarters. New clothes and shoes
Update: Funds authorized for classroom constructions and new generator
New: Christmas for Refugees program updates / Adult diaper needs in West Bank
Orphanage in Nigeria
New Jos location opening!
New building rented: Sunni Muslim Fulani herdsmen have driven tens of thousands of Christians from the Miango area. A few of the foreign operated Christian schools inside the actual Miango township were not attacked and continue to operate.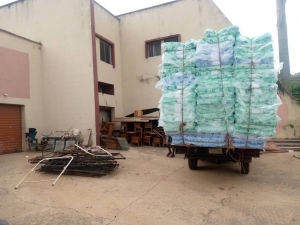 Our orphanage, however, in a more rural area was totally destroyed. All buildings were burned out and all equipment lost including kitchen equipment.
We are slowly rebuilding. I have rented a building on the east side of Jos city. Miango is to the west of Jos city. The total move was just 25 miles, but in this area of Nigeria 25 miles can make a lot of difference.
The orphanage is now inside city limits, not in a rural area. The location is safer, but far more costly.
A small family can live in a rural area of Nigeria for about $200 a month including housing and food. In a town the size of Jos the cost is more than double that and is even more money for a middle-class standard.
Last month I reported to you that I had transferred funds for the following:
Paid one year's rent on a building in Jos to house children
Paid for transportation and repair of 52 iron bunk beds
Purchased 150 mattresses for delivery to rented space
Purchased mosquito nets, toiletries, and blankets for 140 children
Purchased two bales of used children's clothing
Purchased new sandals and socks for 140 children.
Paid for all food stuffs needed for the children for one month
Since then, more work has been done. The old metal bed frames from the original orphanage site have been cleaned and sanded and moved into the new location. The new mattresses have arrived as well. The mosquito netting is up, and the children have blankets although we now need sheets. We purchased used clothing for the children, but they need school uniforms.
This month I will send funds for the following:
Construction of 16 temporary plywood classrooms in Jos building courtyard
School Uniforms (This was in addition to used clothing purchased last month)
Generator and stabilizer : (Power is not reliable in Nigeria and this is necessary)
Standing fans for rooms : (We cannot afford power for air conditioners.)
Bed sheets, curtains and rods for windows
Recreational materials (swing, seesaws, etc.)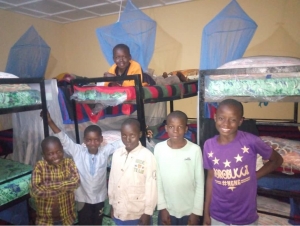 The most expensive item was the wood for framing and plywood for walls and roofs to construct temporary classrooms.
The lumber cost was over $6,000. But temporary could be up to two years. The main building for the children's quarters is rented. I have paid for one full year and there is only a two-year lease.
During the time of the lease, it is my prayer that land can be found, and permanent buildings erected at a new site. We are not even at the stage of looking for a new permanent location. Current needs are being met, but more needs to be done.
Spiritual needs
The children need your prayers: These orphans are traumatized. The Miango orphanage was evacuated in May because of threats. Then in August it was evacuated again. This time every building was burned, and all the children's earthly possessions were destroyed. They left with just the clothes they wore. Books and Bibles were lost.
Many of these children were brought to the orphanage when the same Sunni Muslims attacked their home villages and killed their parents. Some were severely wounded themselves in the attacks. Every one of these children have PTSD and will need solid Biblical counseling. For now, nothing can erase the nightmares.
So please pray for them, and please ask the prayers of your church. Please pray for the Holy Spirit to descend upon and heal the emotional wounds of these children. The Sunni Muslim Fulani herdsmen are not done killing Christians. Jos City, while safer, is not that safe. In March of 2012 a Catholic Church in Jos was hit by suicide bombers. Most of those dead were young scouts who were directing where to park. They stopped the bomber because they did not recognize him, and he blew himself up.
I have been to that church and talked with the parents of the scouts. It was heartbreaking.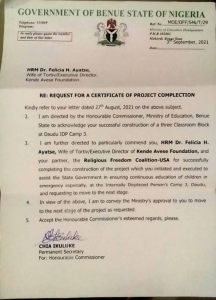 By the book!
At right is a certification of completion of the school building the Religious Freedom Coalition funded in Daudu IDP Camp 3 in Benue State.
The building and outfitting are being done in stages. As each stage was completed successfully, funds were furnished.
The TIV Tribe requested final certification of the three-classroom building from the State government.
When this certification was received by our office, I released an additional $18,720 for desks, chairs and education materials for this building as well as for two previously constructed buildings in Daudu Camps one and two.
In all, desks, Bibles and educational materials were furnished for 120 students at each of the three camps. Of course, desks for the teachers along with their education materials were also furnished.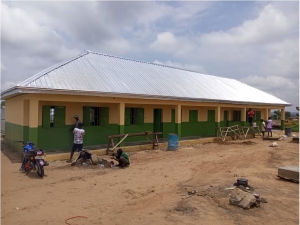 Thanks to the good-hearted supporters of the Religious Freedom Coalition, 360 Christian children forced from their homes by Sunni Muslim terrorists will be able to receive an education in a safe building out of the rain during rainy season and out of the blistering sun during the summer months.
Let's pray that the displaced Christian children and their families will be safe. On April 27th of this year Sunni Muslim Fulani Herdsmen attacked an IDP camp in Benue, killing seven. This is the same camp I have been to and delivered aid to in the past. There are now attacks even further south in Christian areas. Stillthe Christians of the south pretend all is well.
$100,000 SO FAR: Because of the good hearts of Religious Freedom Coalition supporters, just at $100,000 has been transferred for missions in Nigeria so far in 2021!
Building the school building and outfitting three buildings in the Daudu camps in Benue State cost $42,000 and another $58,000 has been used for the orphanage. Costs for the orphanage will exceed what I budgeted this year because of the attack against it by Sunni Muslim Fulani Herdsmen.
Christmas for Refugees
Christmas is approaching and many displaced Christian children will not be celebrating, because their families don't even have money for food.
My wife Nancy and I have been at locations in Iraq where displaced Christians were selling their household belongings on street corners to get money for living expenses.
Christmas for Refugees provides more than a Christmas program and a meal. The children do receive personal gifts, but along with those some basic needs of the families are filled. Depending on the area, gifts could be hygiene kits, blankets or basic food stuffs.
The hygiene kits contain cleaning supplies and personal items for the family such as toothpaste, toothbrushes, shampoo, and body soap. Feminine supplies for several months are also included for the mothers.
In some areas of Lebanon such as the Bekaa Valley, where there are freezing winter temperatures, the family gifts include blankets.
If funds are available: The Christmas for Refugees funding this year is not going well. Despite having a matching gift fund of $140,000 donations to the Christmas program are well behind 2020.
Right now, every gift to Christmas for Refugees is being doubled by the Matching Gift Fund set up by the Leadership Circle. The Leadership Circle is made up of very generous supporters of the Religious Freedom Coalition.
We must raise $140,000 in smaller donations in order to receive the entire matching gift fund. That would give us $280,000 toward the budget to provide a real Christmas for 12,500 displaced Christian children, many of them in Lebanon and Syria.
Lebanon is in a state of crisis and literally bankrupt as a nation, as it deals with 40% of its population being refugees from Iraq and Syria. The Lebanese currency is worthless, having lost 90% of its value against the U.S. dollar in the last two years. The country cannot even afford to buy fuel for power plants.
Christian children are suffering, and I want to bring them some joy at Christmas and help their parents with some basic needs for Christmas. Frankly, I need your help.
The Diapers for Refugees program is also in need of funds as more and more special needs adults request help. Social service infrastructure in Iraq, Lebanon and the West Bank is broken. Christians in the West Bank do not get help from the Palestinian Authority and those in need must rely on American and European non-profits for help.
Sadly, most of the major American non-profits give 90% of their aid in the West Bank to Muslims, not Christians.
The Religious Freedom Coalition assists only Christians in need.
William J. Murray, President
https://religiousfreedomcoalition.org/wp-content/uploads/2021/10/WhatsApp-Image-2021-09-22-at-3.27.54-PM.jpeg
780
1040
Claire Marlowe
https://religiousfreedomcoalition.org/wp-content/uploads/2020/03/RFCFinal.jpg
Claire Marlowe
2021-10-15 13:06:25
2021-10-15 13:06:28
The Chairman's Report for October 15, 2021