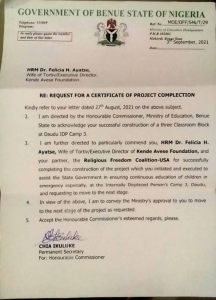 At right is a certification of completion of the school building the Religious Freedom Coalition funded in Daudu IDP Camp 3 in Benue State.
The building and outfitting are being done in stages. As each stage was completed successfully, funds were furnished.
The TIV Tribe requested final certification of the three-classroom building from the State government.
When this certification was received by our office, I released an additional $18,720 for desks, chairs and education materials for this building as well as for two previously constructed buildings in Daudu Camps one and two.
In all, desks, Bibles and educational materials were furnished for 120 students at each of the three camps. Of course, desks for the teachers along with their education materials were also furnished.
Thanks to the good-hearted supporters of the Religious Freedom Coalition, 360 Christian children forced from their homes by Sunni Muslim terrorists will be able to receive an education in a safe building out of the rain during rainy season and out of the blistering sun during the summer months.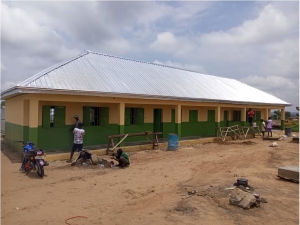 Let's pray that the displaced Christian children and their families will be safe. On April 27th of this year Sunni Muslim Fulani Herdsmen attacked an IDP camp in Benue, killing seven. This is the same camp I have been to and delivered aid to in the past. There are now attacks even further south in Christian areas. Still the Christians of the south pretend all is well.
$100,000 SO FAR: Because of the good hearts of Religious Freedom Coalition supporters, just at $100,000 has been transferred for missions in Nigeria so far in 2021!
Building the school building and outfitting three buildings in the Daudu camps in Benue State cost $42,000 and another $58,000 has been used for the orphanage. Costs for the orphanage will exceed what I budgeted this year because of the attack against it by Sunni Muslim Fulani Herdsmen.
https://religiousfreedomcoalition.org/wp-content/uploads/2021/10/PHOTO-2021-08-09-16-35-04.jpg
780
1040
Claire Marlowe
https://religiousfreedomcoalition.org/wp-content/uploads/2020/03/RFCFinal.jpg
Claire Marlowe
2021-10-05 11:38:19
2021-10-05 11:38:22
By the Book!