Watching the children singing praises to the Lord in the Camp *** (Camp name redacted for security) amphitheater is worth the entire journey to the Middle East. The children are from every corner of Jordan and from every denomination.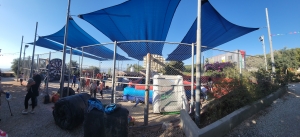 Many of the children that attend one of the Camp*** sessions come from non-practicing Christian families. They were "born Christian" and that fact is on their national ID. But many of the children have no real relationship with the Lord.

That is what Camp *** is about, and it is why the Religious Freedom Coalition has supported the camp for decades.

This year we replaced the mattresses again! Notice I said "again." We have been supporting Camp *** for so many years that mattresses we previously purchased have worn out and needed replaced.

We also paid for the installation of a giant canvas tarp to shield the children from the sun as they played in a newly developed area of the camp. Several large games were installed including "jumping bags" which are large inflated heavy plastic bags for the children to jump on. In the United States these are often located inside children's gyms.

While there I visited the kitchen which we remodeled several years ago, to inspect the condition of the equipment we had supplied. All the updates we have made at Camp *** in the past are in good working order including the water system we supplied as well as the remodeled and expanded restrooms for both boys and girls. The security system we installed continues to work well.

Most important … the children are safe and comfortable while having fun and learning more about the Lord. The concept is to have a summer camp atmosphere while having educational programs centered on the Bible, with the goal of the children developing a strong relationship with the Lord.

Camp *** would not be what it is today had it not been for the generous supporters of the Religious Freedom Coalition.
Watch this video from my time visiting Camp *** in Jordan in July.
https://religiousfreedomcoalition.org/wp-content/uploads/2022/08/20220715_173548-scaled.jpg
1171
2560
Claire Marlowe
https://religiousfreedomcoalition.org/wp-content/uploads/2020/03/RFCFinal.jpg
Claire Marlowe
2022-08-16 13:34:32
2022-08-16 13:34:34
WATCH: Checking in on Christian Camp