In this issue of the newsletter
Update: Orphanage in Miango, Nigeria destroyed, every building burned
Update: Orphans escaped but all personal belongings were burned up
Update: Religious Freedom Coalition rents building in Jos City for orphanage
New: Mission to Iraq – Team heads to Iraq to reinvigorate diaper program
Orphanage in Miango, Nigeria closed!
Buildings destroyed beyond repair: Sunni Muslims strike again in Nigeria. Sunni Muslim Fulani herdsmen went on a murderous rampage that began on July 31st and went on for days. The main thrust began on Sunday, August 1st catching many Christians in their churches.
Although many had thought the attacks in May would be the end of the violence this year, the blood thirsty Muslims were not done.
The worst hit group was the Irigwes tribe which is predominant in the area. The Irigwes are mostly Christians, with some secular. None are Muslims.
A local newspaper reported:
"At least 29,804 Irigwes that have been displaced, about 55 people injured and 70 people killed in the recent attacks and sacking of several hamlets in Jebbu Miango, Irigwe chiefdoms of Bassa Local Government Area of Plateau State."
Gastro Barry, chairman of Relief and Intervention Committee, stated that so far this year about 3,000 homes have been destroyed in attacks by Fulani Herdsmen in just this area.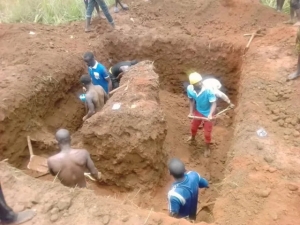 Abuja, the capital of Nigeria, is located within a "federal zone" in Plateau State. These attacks are coming within a few hours' drive of Nigeria's capital President Buhari has done nothing except declare himself a Fulani and claim that Fulanis only have "sticks" for weapons.
On May 25th the orphanage was evacuated, and the children brought back to Miango a month later. They were only in their beds for a little over a month when once again the orphanage director had to evacuate them.
Thankfully we had received a warning of the pending attack, so transportation had been arranged in advance just in case.
About ten days ago I sent a letter to many Religious Freedom Coalition supporters detailing the attack on the orphanage. In that letter I described how all 147 of the traumatized children were taken to homes in Jos city.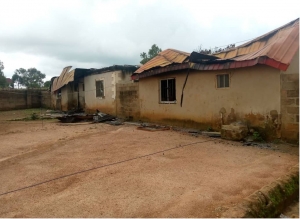 Most of these children had already been traumatized as they watched their parents being killed by Sunni Muslim gangs. Now they were once again the victims of Muslim violence. What's next for them?
For many of the children this was the second or even third time they have been displaced because of the attacks of Sunni Muslims.
The damage is too extensive … the orphanage buildings are beyond repair.
A new orphanage must be built in a safer location
First, land in a safe location must be found. In Nigeria the word "safe" is relative. The orphanage was located in a "safe place" when it was opened. A Christian mission that is over 100 years old called the Miango Rest Home is very close and for many decades it has been used for retreats. The orphanage location was at one time in a 100% Christian area.
What now? … We rebuild in a "safer" place
First, we must provide for the children because the government is not going to provide for them. Nigeria is not a welfare state, particularly when Christians are in need.
I am working with the orphanage director and other Board of Directors members to find shelter and food for the children and then move them into an educational setting. This may have to be done initially in different areas.
Foremost the children must have a roof over the heads.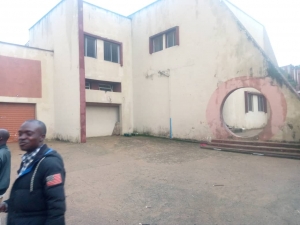 Building rented in Jos city: The Religious Freedom Coalition has transferred the funds to Nigeria to rent a 15-room building as a dorm for the children displaced when the orphanage in Miango was destroyed.
The building is within Jos City and is about 30 kilometers from where the orphanage was located in Miango.
I authorized the rent to be paid for one full year in advance.
The building is larger than the photo of the entrance shown and will allow us to house children temporarily. Other housing is being arranged for the older children from the orphanage.
At this point we will not be able to bring all the orphans back into one setting.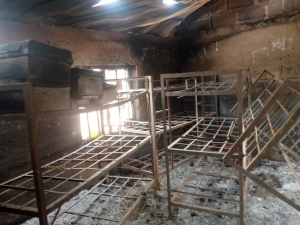 To save funds the metal bed frames from the burned-out dorm buildings at the Miango orphanage are being salvaged. The frames are being cleaned and will be moved to the new building.
The orphanage director is now working on obtaining new mattresses. Meanwhile the students are in very temporary housing in homes in Jos city.
Orphanage staff have been going through the destroyed buildings to see if anything else can be salvaged.
The workers miss the children just as much as the children miss them.
Some normal things are continuing despite the vicious attacks by the Muslims.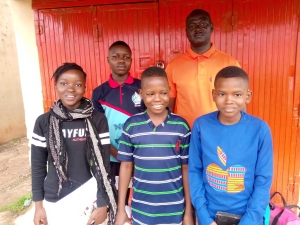 Before the attacks orphanage children were competing in a Bible quiz and recitation contest in the Miango-Jos area.
Four of the orphanage students became local champions and have advanced to the national level. Provided with donated clothing to replace what was burned up, they are on their way to compete next in Ilorin Kwara.
The children continue to study and work on their Bible lessons. They haven't given up despite the attacks and we shouldn't give up on them.
What we have done so far!
So far, we have funded several projects to get the orphanage relocated in a temporary location. It may take up to two years for a permanent solution. These are the actions I have taken
so far:
Paid one year's rent on a building in Jos to house children
Paid for transportation and repairs on 52 iron bunk beds
Purchased 150 mattresses for delivery to rented space
Purchased mosquito nets, toiletries, and blankets for 140 children
Purchased two bales of used children's clothing
Purchased new sandals and socks for 140 children
Paid for all food stuffs needed for the children for one month
Next on the list to buy will be all the cooking utensils, coolers, and a deep freezer. We also still need to purchase the educational materials that were lost when the orphanage in Miango was looted and burned.
To save funds to use for the children I have decided not to travel to Nigeria this year. I already had a trip planned to the Middle East in September and did not want to spend funds on airline tickets to Nigeria that could be used for the children.
Iraq: I leave for Iraq the same day this newsletter is mailed to you. At least I plan to leave for Iraq the same day this newsletter is mailed to you. International air travel has become totally unpredictable. Our flights to Nigeria were cancelled and moved to other dates so often that we were unable to go. The orphanage was destroyed before we were able to get there to see the improvements we had accomplished.
We must now deal with the ministry work in the Middle East for many reasons including plans for the Christmas for Refugees and diaper programs.
My wife Nancy and I plan to travel to Amman, Jordan first. There we will form a team to travel to Erbil and Dohuk. Both those cities are in northern Iraq. We plan to work on restoring the Christmas and diaper programs in Iraq that were damaged by lock downs, illness and deaths caused by Covid-19.
The number of diapers we were able to deliver in Iraq was cut in half from 2019 to 2020. However, we were able to increase the number of diapers for special needs adults. Most of our work has moved from Erbil to Dohuk as areas of need change in such times as these.
Dohuk was a majority Assyrian Christian city just a hundred years ago. There are hundreds of churches, many of them centuries old. Most churches are now boarded up in the former Assyrian city that is now over 90% Muslim. Currently the majority of the city's population is Kurdish. Many Americans think the Kurds are Christians and maybe a few are, but the vast majority of Kurds are Sunni Muslims.
Most of the Christians who remain have moved into northern Iraq where the Kurds are the majority. There were 1.2 million Christians in Iraq when the first Gulf War began in 2003. There are maybe 200,000 total today and many of them live in poverty. Most would leave Iraq if given the opportunity.
A large number of the remaining Christians are elderly and in situations where there are no longer family members to care for them. The families who are there and can help often lack the funds for medical care for their elderly parents and other relatives. There is nothing like Medicare in Iraq. All medical care is "pay fee for service."
Thousands of Christians were wounded during the two Gulf wars and by numerous terrorist attacks, particularly those by the Islamic State. Many lost limbs, others suffered internal injuries that left them unable to care for themselves. An incredible number are in wheelchairs. I have been in their homes; I have prayed with them.
To help these mostly poor and vulnerable Christians, the Religious Freedom Coalition needs the help of Christians here in the United States.
Please pray with me that more American Christians will learn of the need and that their hearts will be touched to help us aid the Christians of the Middle East. Together we can improve the lives of the downtrodden church in nations that are majority Islamic.
Please pray the diaper and Christmas programs are fully restored.
William J. Murray, President
https://religiousfreedomcoalition.org/wp-content/uploads/2021/09/WhatsApp-Image-2021-08-14-at-5.05.33-PM.jpeg
780
1040
Claire Marlowe
https://religiousfreedomcoalition.org/wp-content/uploads/2020/03/RFCFinal.jpg
Claire Marlowe
2021-09-10 08:05:00
2021-09-03 11:52:44
The Chairman's Report for September 10, 2021