Most buildings up but more space needed
Board Meeting and inspection: Prior to the purchase of land in Jos city for the orphanage there was a complete reorganization. With the large amount of Religious Freedom Coalition funds I was committing to the project, I wanted a fresh start to distance the orphanage from mistakes made prior to my involvement in 2017.
The new organization name was filed and a new Board of Directors that includes me was formed. To be on the Board and have a management role required obtaining a "green card" for Nigeria. I officially have residency status even though I spend only a week to ten days per visit. Praise God for this accomplishment!
My residency status allows me to partner with other NGOs and local organizations.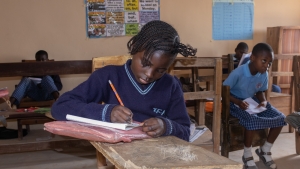 Buying land in Jos changed everything. More volunteers are available. In addition, the new Board of Directors is able to seek additional local assistance. As an example, we have built only two of the three needed educational buildings. We were one building short. Volunteers offered to build a temporary building until we had the funds for a proper facility.
The temporary classroom building looks horrible. It is constructed of scrap lumber that is poorly fitted together by the volunteers and there are large holes here and there. It does keep the sun off the students but one good windstorm during the rainy season and it is coming down.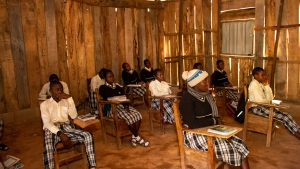 On the other hand, the temporary building does allow me the time to raise and set aside funds to complete the third classroom building using cement blocks.
While I was there the hot water heater failed in the boys' dormitory. The water heater was far too small. I am working with our orphanage director to quickly find a solution that is better than what we had. There are 88 boys and a simple water heater is not going to work. A commercial hot water system that has an affordable price point is needed.
Overall has the orphanage reached its potential? No!
During 2022 I transferred $246,000 to Nigeria to purchase the land, strip and prepare existing buildings and build several additional buildings from cement block. That doesn't sound like a great deal of money by American standards, but in an area where a good wage is thirty dollars a month it is a lot of money.
Much was accomplished with the funds donated by supporters of the Religious Freedom Coalition. Thank you each and every one!
https://religiousfreedomcoalition.org/wp-content/uploads/2023/02/IMG_6246-scaled.jpg
1440
2560
Claire Marlowe
https://religiousfreedomcoalition.org/wp-content/uploads/2020/03/RFCFinal.jpg
Claire Marlowe
2023-02-21 11:06:57
2023-02-21 11:07:00
Mission to Nigeria: Orphanage Inspection